Agnipath Scheme- Indian Air Force has Close the Agniveer Registration Window on agnipathvayu.cdac.in. However Indian Army & Indian Navy has publish the Agniveer Registration Form in online mode. the Official Website of Indian Army at joinindianarmy.nic.in & Indian Navy at indiannavy.nic.in. The Agneepath Plan Indian Navy Application Form Do Begin From on the Official Website at indiannavy.nic.in. Detail Agneepath Scheme Notification For The Indian Navy Do be Release on 2023.
At the same time, after four years of service, the remaining 75th percent of the youth will be given a lump sum amount and a certificate of technical qualification from the government, which will help them get jobs according to their ability in different sectors in future. Along with this, all the Student can apply as volunteers for recruitment in regular cadre.
Agnipath Scheme 2023
The government of India has announced the Agnipath scheme for the recruitment of the youth of India in the Indian Armed Forces. Through this scheme, the younger population of the country is encourage to take the military as a carrier with a high pay scale. The Agnipath plan allows the Applicants to serve in Indian Armed Forces for four years. The select student in the Agnipath scheme will be known as Agniveer.
The government has announced to recruit about 46000 Agni veers this year. The recruitment is divided into two parts in which up to 25000 Agni veers will be recruited in the first half of December and the remaining Agnipath Scheme 2023 will be recruited by the 1st half of February 2023. In this article, we have highlighted all the details including eligibility criteria, salary package, education qualification & physical fitness with the latest updates.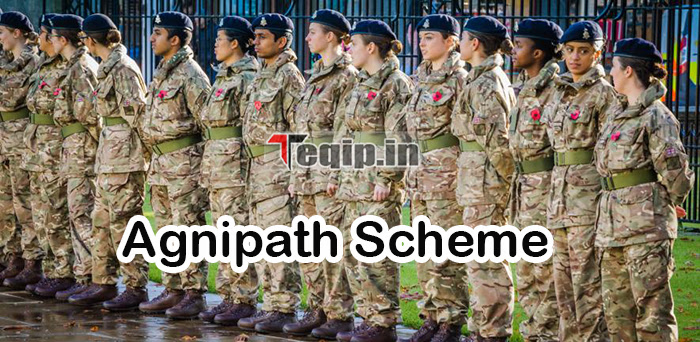 Agnipath Scheme 2023 Details
| | |
| --- | --- |
| Article type | Agnipath Scheme 2023 |
| Article category | Scheme |
| Name of the organization | Ministry of defence |
| Name of the scheme | Agniveers Agnipath Scheme |
| Name of the post | Armed force |
| Number of posts | Coming Soon |
| Date of application form | 2023 |
| Mode of application | Online mode |
| Launched by | Government of India |
| Official website | joinindianarmy.nic.in |
Check Also- Chhattisgarh Open School 12th Result
About Agnipath Scheme
Agniveers once enrolled into the Indian Air Force, will be governed under the Air Force Act 1950, for a period of four years. As part of the enrolment process, each 'Agniveer' will be required to formally accept all terms and conditions of the AGNIPATH Scheme. For personnel below the age of 18 years, the enrolment form will need to be signed by the parents / guardians, in accordance with extant provisions.
Agnipath scheme is an ambitious scheme brought by the Government of India for the reinstatement of the army for 4th years, on which the government will take action within 90th days. Through the Agnipath recruitment scheme, there is a plan to made the Indian forces more young & skill in new technologies. With the help of this plan, the government will help in reducing the average age of the army from 32th years to 26th years, which will not only infuse youth power in the armed forces, rather, many Applicant will also get jobs.
Read Also- Haryana HBSE 12th Result
Agnipath Scheme 2023 PDF Notification Online
After the arrival of the Agneepath plan New Recruitments for the Post of Constable in the Army Just Now be Done Under the Agnipath Scheme. Along with this Keeping in View the Need for Merit & Organization in the future, up to 25th percent of Agniveer soldiers will be retained even after 4th years of service in the army. Post the Period of four Years all Agnipath Scheme 2023 will Go Back to the Society. How ever base on Organizational Requirement & Policies Promulgate by the IAF Agniveers Who have Exit will be Offer an Opportunity to Apply for Enrolment in the IAF in the Regular Cadre.
The skill gain by each Agniveer will be Captured in a Proof to Form part of his Resume. These Applications will be Consider by a Centralize Board in a Transparent Manner & Not more than 25% of the Strength of the specific batch of Original Agniveers will be Enroll in the IAF base on Performance During their Four Year Engagement Period as Agniveers. Release at own Request Prior to Completion of Engagement Period will Not be Permissible for Agniveers Except in Exceptional Cases with Approval of the Competent Power .
Agnipath Scheme 2023 Eligibility Criteria
According to the Agneepath Eligibility Criteria if you look at the age limit of the you who Apply for the Agnipath Scheme 2023 plan, So the minimum age of the youth applying for this scheme has been fixe as 17th years 5th months & the maximum age is 23th years.
| | | |
| --- | --- | --- |
| Category | Education Qualification | Age limit |
| Soldier General Duty | SSLC/Matric with 45% marks in aggregate. No% required if higher qualification. | 17.5 – 23 Years |
| Soldier Technical | Intermediate examination passed in Science with Physics, Chemistry, Math's & English. Now eight age for higher qualification. | 17.5 – 23 Years |
| Soldier Clerk / Store Keeper Technical | Intermediate exam pass in any stream(Arts, Commerce, Science)with 50% numbers in aggregate and min 40% in each subject. Weight age for higher qualification. | 17.5 – 23 Years |
| Soldier Nursing Assistant | Intermediate exam passed in Science with Physics, Chemistry, Biology & English with min 50% mark sin aggregate and min40% in each subject. Now eight age for higher qualification. | 17.5 – 23 Years |
| Soldier Tradesman | | 17.5 – 23 Years |
| (i)General Duties | Non-Matric | 17.5 – 23 Years |
| (ii)Specified Duties | Non-Matric | 17.5 – 23 Year |
Can Check Also- TNPSC BHS Result
Agnipath Scheme 2023 Pay Scale
Pay Scale
Select Student Enroll Under this Scheme will be paid an Agnipath Scheme 2023 package of Rs. 30,000/- per month with a fix yearly Increment. Information of Monthly Remuneration Agniveer Corpus fund & 1 time Seva Nidhi package are indicate Under.
Year
Customized Package (Monthly)
In Hand (70%)
Contribution to Agniveers Corpus      Fund

(30%)

Contribution to       Corpus fund by GoI
All Figures in Rs. (Monthly Contribution)
1st Year
30000
21000
9000
9000
2nd Year
33000
23100
9900
9900
3rd Year
36500
25550
10950
10950
4th Year
40000
28000
12000
12000
All Figures in Rs. (Monthly Contribution)
Total  Contribution  in   Agniveers

Corpus Fund after four years

Rs. 5.02 lakh
Rs. 5.02 lakh
Exit after 4 year
Rs. 10.04 Lakhs as Seva Nidhi Package

(absolute amount excluding interest)
NOTE:
(i) Agniveers Do not be Require to Contribute to any Provident Fund of the Government.
(ii) There Shall be no Entitlement to Gratuity & any kind of Pensionary Benefits in the Case of Agniveers.
Allowances
In Addition Risk & Hardship Dress & Travel Allowances will be paid. Grant of leave will be Subject to Exigencies of the Organization. The Following Leave may be Applicable for Agniveers During Their Engagement Period.
Annual Leave: 30 Days per Year
Sick Leave: Based on Medical Advice.
Agneepath Recruitment Application Fee
The Student are Suppose to pay INR 250/- in an online mode. The Online Payment of the Application Can be Made Through Debit Cards/ Credit Cards/Internet Banking Through the Payment Gateway.
For Offline Payment of the Application Fee the Challan From Axis Bank is to be Paid.
Selection Process
For the Agneepath Scheme Recruitment the Old Army Method Will be follow.
For this Along with the Physical Exam the Applicant will also have to go Think the Written Test.

Under the Agneepath Recruitment Scheme you will get an Opportunity to Work Full Time in the Armed Services Force for a Total of 4th Years Including a Training Period For Which Recruitment will be Done as per the Rules set by the Army.

The Special Thing is that not Only Men but Women Can Also Apply Under this Scheme. Through this Plan the you will be Able to get Reinstate in the three Major Parts of the Army Air Force & Navy.
Indian Air Force Agniveer Recruitment Rally PFT 2023
Check the Physical Fitness Test requirement below:
1.6 Km Run
Group – I – Up till 5 Minutes 30 Seconds
Group– II 5 Minutes 31 Sec to 5 Min 45 Seconds
Beam (Pull Ups)
Group – I – 10 marks out of 40 marks
Group– II – 9 marks out of 33, 8 marks out of 27, 7 marks out of 21, 6 marks out of 16.
Related Post:-