JKPAYSYS Salary Slip –The Jammu and Kashmir Pay System is a website where government workers can view and download their pay stubs and other relevant documents. In the state, downloading the JKPAYSYS salary slip is simple. With just a single click, users can now pay their bills and access their salary information. To download their salary slip and pay their bills, they don't have to go to the salary department or any other relevant department.
The Government and its employees have benefited in a number of ways since JKPAYSYS was introduced in the Union Territory of Jammu and Kashmir. Since it is an IT-based tool, this has reduced paperwork and made work less hectic. Transparency is ensured, system errors are reduced, and workload is reduced by this online platform. The information here, such as paychecks, bills, and salaries. are produced and distributed to users in real time.
JKPAYSYS Salary Slip 2023
A single, integrated platform for Drawing and Distributing Officers (DDOs) to prepare various types of bills is JKPAYSYS, also known as Pay Manager. JK Payment System is an online payment system for employees of the Government Department in J&K. It not only provides a service for preparing pay bills, but it also makes it easy for users to prepare bonuses, leave encashment bills, DA arrears, etc. The National Informatics Centre (NIC) was responsible for the design and development of the JK Pay system, which is managed by the Finance Department of the J&K Government.
Read this article if you're looking for information about JKPAYSYS Salary Slip 2023. You'll learn everything you need to know about JKPAYSYS login, downloading salary slips, and various bill payment options as you read the article. Therefore, continue down the page to learn more about the Salary Slip.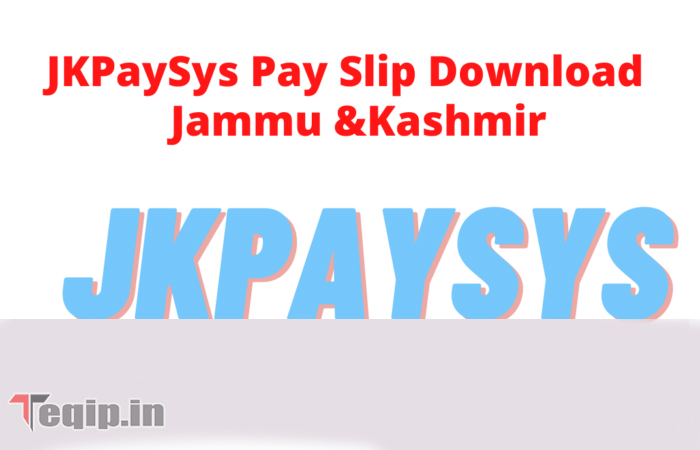 JKPAYSYS Salary Slip 2023 Details
| | |
| --- | --- |
| Name of the portal | JKPAYSYS (Payment System) |
| Category | Government Scheme |
| State | Jammu & Kashmir |
| Concerned Authority | Finance and Accounts Department of Jammu & Kashmir |
| Designed and developed by | National Informatics Centre (NIC) |
| Purpose | To provide employee details in online mode |
| Mobile app | Available |
| Name of the app | MeraVetan |
| Official portal | jkpaysys.gov.in |
Can Check:- Tamil Nadu Anganwadi Recruitment
Purpose of launching jkpaysys.gov.in portal
There are many people in our society who work in government offices. Government employees have to visit banks to get information about salary slips, due to which the public has to face a lot of problems. Website of the Government of Jammu and Kashmir The main objective of launching this is to provide online facility to the government employees so that the public can easily check their salary slips while sitting at home.
Check Also:- ONGC Class 1st Executive Posts Recruitment
Benefits of J&K Payment System Portal
If you are also interested to know what is the Jammu and Kashmir End Payment System Portal, then you must see the list given below so that you too can easily take advantage of this portal.
The people of Jammu and Kashmir will get the benefit of the portal.
Through this portal, the government employee will get the benefit of this portal.
The public can easily check the JKPAYSYS Salary Slip 2023 through the portal sitting at home.
Now you do not need to go anywhere to get information related to salary.
People's time and money will be saved for both.
Read Also:- NHM Rajasthan Hall Ticket
How To Apply JKPAYSYS Salary Slip 2023 Online?
To obtain the JKPAYSYS Salary Slip 2023-24 in PDF format, all employees must follow the steps listed below.
To begin, you will need to go to the JKPAYSYS's official website jkpaysys.gov.in
Click the "Salary Slip" link under the notification tab on the website's homepage now.
The employee pay slip login page will then appear in front of your monitor.
The Employee code, first name, year, and verification code are all required of you here.
Click the "Submit" button after filling in the information.
On the new page, the salary slip will now appear.
Additionally, you can "Download the salary slip" from this location or print a copy of it for future reference.
Therefore, downloading the employee salary slip is simple if you follow these steps.
Instructions For Online Employee Login At jkpaysys.gov.in
A Pay Manager JK Login Password and a JK Pay Sys user ID, employee code, or Aadhaar number are required to log in to the JKPAYSYS System. Also, if you already have all of these, you can use the steps below to log in online to jkpaysys.gov.in.
First things first, go to the JKPAYSYS portal's official website.
The Login section will then be visible in front of you on the homepage.
In these boxes, you must enter your username, password, and captcha code.
then proceed by clicking the "Login" button.
Finally, the user profile will open, and the portal's services are easily accessible.
Download The PDF Employee Payroll/Pay Slip From JKPAYSYS.
Visit the JK Paysys Pay Manager's official website.  jkpaysys.gov.in
Click the "Login" button on the website's homepage. At this point, you must enter your login ID, username, and password.
After entering the image's verification code, you can click the "Login" button.
After all, you are now able to view the Paysys payroll data because you successfully logged in to your account.
You must select the "Payroll" option in order to download the payroll.
Wait for the payroll to load, then select the desired month.
The payment slip can then be downloaded in PDF format by selecting the Download option.
You have now downloaded the employee payroll software from JK Paysys.
How To Download Application On Mobile
To download the mobile application, first of all you have to search the Play Store apps on Google.
Now you have to search by typing my salary in the search bar.
Now you will get the option to install, you have to click on that option.
Now the application will be installed on your mobile.
Related post :-
Bihar Anganwadi Labharthi Yojana 2023
HGS Pay Slip Online Login Process 2023