JNVST Admission 2023:- This post contains the Jawahar Navodaya Vidyalaya Selection Test Notification 2023-24 for Class 6, 9 Admission, which is now available to all qualified applicants who wish to apply for admission. This is to inform you that navodaya.gov.in Class 6 Admission 2023-2024 is open until January 31, 2023.
Before you begin filling out the JNVST Admission Form 2023-24, you must verify your eligibility. The JNVST Class 6 Admission Form 2023-24 can be download until January 31, 2023, and the Admission Exam is schedule for April 29, 2023. For your quick information, you can find the JNVST 2023 Registration Link and Fees here.
JNVST Admission 2023
The Navodaya Vidyalaya Samiti made the JNVST 2023 Notification public on January 2, 2023, as students eagerly await it. Every student aspires to attend JNV, which we are aware is one of India's most prestigious schools. In order for a student to continue their education at this school, which accepts students in grades 6th through 9th, they must pass the Jawahar Navodaya Vidyalaya Selection Test 2023-24. To be considered, applicants must apply and pass the test.
By registering for Jawahar Navodaya Vidyalaya Admission 2023-24 until January 31, 2023, you can all begin studying for the exam. The Admission Written Exam will take place on April 29, 2023, and the results will be made public in June 2023. The entire procedure for completing the JNVST Admission 2023 can be found here. Submit the form online to gain admission. In order to confirm your registration, upload your certificate, which should be sign by the school headmaster, and any other similar documents as you fill out the form.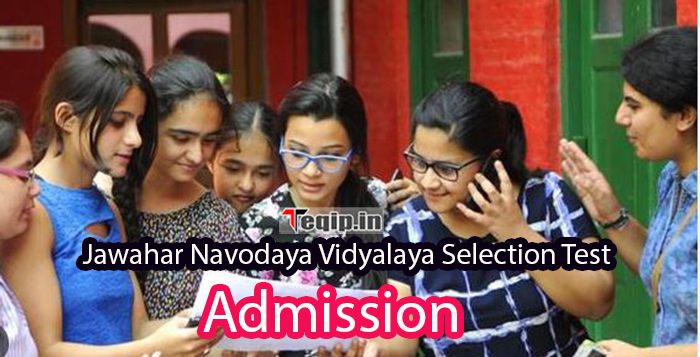 JNVST Admission 2023 Details
| | |
| --- | --- |
| Organization Name | Navodaya Vidyalaya Samiti |
| Admission for | Class 6 |
| Test Name | Jawahar Navodaya Vidyalaya Selection Test (JNVST) |
| Academic Year | 2023-24 |
| Category | Application Form |
| Release Date | 2 January 2023 |
| Start Date | 2 January 2023 |
| Last Date JNVST 2023 Application Form | 31 January 2023 |
| Official Website | navodaya.gov.in |
Also Read:- KVS Teaching and Non Teaching Various Post
About JNVST
It was believed that children with special abilities should have access to high-quality education regardless of their financial means so that they can progress more quickly. Students from rural areas would be able to compete with students from urban areas on an equal playing field thanks to such education.
integrating them seamlessly into society's mainstream and integrating them. The Navodaya Vidyalaya System, which began as a one-of-a-kind experiment, is now unparalleled in the history of Indian and international school education. The selection of talented rural children as the target group and the effort to provide them with a quality education comparable to that of the best residential schools are what make it significant.
JNVST Admission 2023 Apply Online
You are aware that there are 649 Jawahar Navodaya Vidyalayas in 27 states and 8 union territories at the moment. Aside from this, we additionally illuminate you here that the assessment for navodaya vidyalaya affirmation 2023 confirmation in class 6 for your scholastic year 2023-24 will be hung on 29 April 2023 at 11:30 am. In addition, candidates who had been eagerly anticipating the Jawahar Navodaya Vidyalaya Exam in Class 6 or Class 9 for the years 2023 have received this wonderful news. Beginning in 2023, you will be able to submit your application online via the official website. Keep in mind that this is an extremely rare opportunity for you; consequently, you should not pass up this chance.
The information received indicates that the Navodaya Vidyalaya Samiti, or NVS, has issued a notification for the Jawahar Navodaya Vidyalaya Selection Test for class 6 for the years 2023 and 2024. If you or your child are interested in attending Jawahar Navodaya Vidyalaya in sixth grade, we can tell you that you can now apply online by going to the official website for 2023 admission, @navodaya.gov.in, which we will provide to you in this article. It should be noted that class 6 admission to the Navodaya Vidyalaya will take place in 2023. The application form for the JNV selection test must be submitted by January 31, 2023. JNVST Admission 2023, In order to obtain additional information, you must now fully comprehend this article.
Read Also:- Rajasthan BSTC Online Form
NVS Class 6 Admission- Eligibility Criteria
| | |
| --- | --- |
| Education Qualification | In the academic year 2022-23, only those studying in 5th class in government or aided schools can register for the Jawahar Navodaya Vidyalaya Selection Test (JNVST) for the 2023-24 session. Keep in mind that the district in which the student has to take admission in the school, he or she should be studying 5th in that district. |
| Age limit | The student who is going to register for admission in class VI must be born between 1-05-2011 to 30-04-2013, and it includes both dates. For JNVST 2023 registration, the age of the student should be between 9 to 13 years. |
| Application Form Fee | The fee for the NVS Class 6 Admission Application Form is Rs. 35 for all category students so pay the application and submit the admission form to get the admission in sixth class. |
Jawahar Navodaya Vidyalaya Admission Form 2023-24
On navodaya.gov.in, the online notification for the Jawahar Navodaya Vidyalaya Selection Test 2023 is now available.
From January 2 to January 31, 2023, the JNVST Admission 2023 is available.
Thirdly, you need to upload the necessary documents, such as a 5th Pass Certificate that has been signed by the headmaster, an E Aadhar Card, a birth certificate, and other documents that are similar.
In order to confirm your candidacy for the admissions test, you must pay the registration fees.
After that, you need to get ready for the exam and show up for the Selection test on April 29, 2023.
check-GUJCET Application Form 2023
Seat Reservation Criteria for JNVST Admission 2023
75% of the seats are reserved for aspirants selected from rural areas within the districts and the remaining seats are reserved for aspirants from urban areas of the district.
Reservation of seats for SC ST aspirants in proportion to their population in the district should not be less than the national average.
You should aware that that 1/3 seats are reserved for girl students and 03% seats are also reserved for children with disabilities.
Navodaya Exam Date 2023 Class 6
Numerous students have inquired about the Navodaya Exam Date for Class 6 in 2023; as a response, we have compiled a list of all dates in the Navodaya Vidyalaya Admission 2023 Schedule so that you need not worry about the date in any way and will not encounter any issues.
To begin, let me make it clear that online registration for the Jawahar Navodaya Vidyalaya will begin on January 2, 2023, as stated under "Navodaya Vidyalaya Admission 2023."
Additionally, you have until January 31, 2023 to complete your online Jawahar Navodaya Vidyalaya application.
In addition, under Navodaya Exam Date 2023 Class 6, we would like to make it abundantly clear to you that the JNVST 2023 exam will be held on April 29, 2023.
As a result, you will need to begin making adequate preparations as soon as possible in order to pass the exam on your first attempt.
Fight the Navodaya Vidyalaya Entrance Exam
look here-IWAI LDC Online From 2023
Understudy Age ought to be brought into the world before 01 May 2011 and after 30 April 2013
It is open to students who will be in class V during session 2023.
However, you must ultimately qualify for the class V exam.
The candidate should not have taken the JNVST Entrance Test earlier.
Check Here:- MPESB Patwari & Other Post Online Form
How To Apply JNVST Admission 2023 Online?
To begin your application for navodaya vidyalaya admission 2023.
You must first visit the official website at @navodaya.gov.in
After that, you'll need to go to the home page and fill out the application form, attaching all of the required documents.
In this manner, you must now submit your NVS Admission 2023 application.
You are now require to print out the Navodaya Vidyalaya Samiti application and keep it safe with you.
JNVST 2023 Registration Class 6 Requires Documents
Certificate in specified perform sign by Headmaster.
E Aadhar Card.
Domicile Certificate.
Birth Certificate.
5th Class Certificate.
Parents Details.
Income Certificate.
Caste Certificate.
Medical Fitness Certificate
read more- NEET PG Registration 2023 Exam Date
Conclusion
JNVST Admission 2023 Navodaya Class 6 Application Form, Notification, Registration, Apply Online www.navodaya.gov.in is now available online. The form can be accessed at the website www.navodaya.gov.in. The applicant is required to fill the form and send it to the concerned authority for further processing. The authority will notify the applicant about the result of his application through an SMS or e-mail. All the information that is required in the form like name, date of birth, educational qualification, contact number, etc., should be filled in correctly to avoid any inconvenience later on.
FAQ'S
What is the last date of JNV Form 2023?
Eligible aspirants or parents/guardians can fill up the JNVST 2023 Application Form on the official website navodaya.gov.in till 31 January 2023.
From where I can get NVS Class 6 admission form 2023-24? Answer
Eligible students can find the online Application forms on Navodaya Vidyalaya official website. Direct Link to Apply Online for Class 6 and Class 9 is already updated above.
What is the JNVST 2023 Class 6 Exam Date?
Navodaya Class 6 Exam 2023 is scheduled on 29 April 2023 (Saturday).
What is the age limit for Jnvst 2023?
A candidate seeking admission must be between the age group 13-15 years on 1st May of the year of admission for which the Selection Test is conducted.
Is Navodaya free of cost?
Rs.1,852/- per student per month for 9 months. In addition, for miscellaneous mess expenditure including fuel for cooking, cleaning/washing, and wages for casual workers engaged for cooking, an additional amount of Rs. 353/- per child per month (for 9 months) is also approved.
Related Post:-
Rajasthan Nursing Officer Pharmacist Online Form