Navodaya Class 6 Exam Date:- Navodaya Class 6th Exam Date is April 29th, 2023. Aspirants who are seeking admission for Class 6th in various Navodaya Vidyalaya across the Nation are notify that Jawahar Navodaya Vidyalaya Selection Test 2023 for Class 6 is all set to be conducted in offline mode. Students are require to stay tuned till the very end to get particular information about the entrance paper.
Navodaya Class 6 Exam Date 2023
Navodaya Vidyalaya Samiti has officially announce the Jawahar Navodaya Vidyalaya Selection Test 2023 for Class 6. Applicants are informed that a huge number of pupils applied online from January 2023 and now all these aspirants are eagerly waiting for the release of their call letter which is estimated to be issue on the official website of NVS, navodaya.gov.in.
Applicants are informed that the exam will be conducted across the Nation at various examination center's in offline mode through the Optical Mark Recognition sheet. JNVST Class 6 Examination Date 2023 has been officially released by Navodaya Vidyalaya Samiti. If you are one of those thousands of students who applied online to sit in the Entrance Exam then you are requested to keep reading.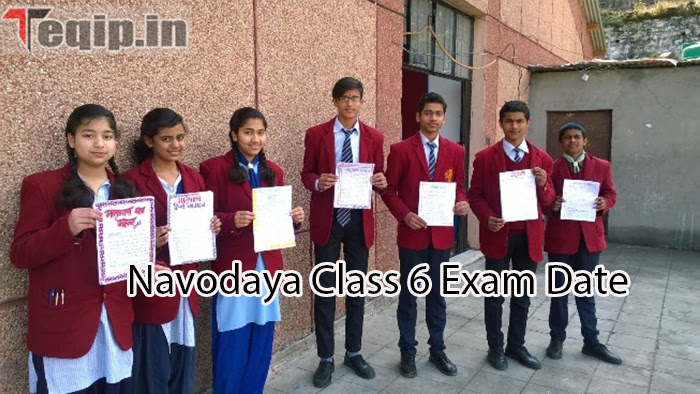 Navodaya Class 6 Exam Date 2023 Details
| | |
| --- | --- |
| Article | Navodaya Vidyalaya Class 6 Syllabus |
| Exam Type | NVS Entrance Exam |
| Class | 6th |
| Name of Examination | Jawahar Navodaya Vidyalaya Selection Test |
| Exam Date | April 2023 |
| Date of Issue of Admit Card | March |
| Category | Exam Calendar |
| Official Website | Click Here |
Check Also:- MP PEB Group 2 Various Post Answer Key
About Navodaya Class 6
The Navodaya Vidyalaya System is a one-of-a-kind experiment that has not been seen before in the history of education in India or elsewhere. The National Policy on Education of 1986 called for the establishment of residential schools known as Jawahar Navodaya Vidyalayas to foster rural talent. Jawahar Navodaya Vidyalayas are one-of-a-kind educational establishments in India that provide high-quality instruction to mostly rural students.
Jawahar Navodaya Vidyalaya is a coeducational, fully residential school with classes up to the 12th grade that is affiliated with CBSE, New Delhi. These Vidyalayas are run by Navodaya Vidyalaya Samiti, a separate organization that falls under the HRD ministry of the Indian government. A test known as the JNVST to Class VI is used to get into these Vidyalayas. The majority of children come from rural areas, and girls make up 30% of the population. Some of the most notable aspects of this one-of-a-kind educational venture include providing students with a high-quality, modern education with a strong cultural component, encouraging student migration between Hindi-speaking and non-Hindi-speaking states in order to promote national integration, and using the vernacular as the medium of instruction up until Class VIII.
Read Also:- Rajasthan BSTC Answer Key 
JNVST Class 6 Exam Pattern 2023
The offline Class 6 Entrance Test will be held by Navodaya Vidyalaya Samiti from 11:30 a.m. to 01:30 p.m., and it will last two hours. The Mental Ability Test, the Arithmetic Test, and the Language Test will each have a total of 80 multiple-choice questions. To learn more about the exam pattern, students should review the table. The Navodaya Vidyalaya Entrance Exam 2023 will take place on February 10, April 8, and June 6, 2023, respectively. You must be familiar with the Navodaya Vidyalaya Exam Pattern and the syllabus in order to score well on the exam. Let us inform you that thousands of national candidates have submitted applications for the JNV Selection Test 2023. November is the last day to submit the Navodaya Vidyalaya Class 6 Admission Form 2023. After that, there will be the JNV Selection Test, for which the JNVST Syllabus 2023 for the Class Exam will be provided in full.
S.No.
Topics
MCQs
Marks
Time
1.
Mental Ability Test
40
50
60 Minutes
2.
Arithmetic Test
20
25
30 Minutes
3.
Language Test
20
25
30 Minutes
Total
80
100
120 Minutes
Can Check:- RUHS B.Sc. Nursing Answer Key
JNVST Class 6 Syllabus 2023
80 Questions are going to be asked from three different sections- Mental Ability Test, Arithmetic & Language Test. Get details about the Syllabus from below.
Mental Ability Test
Questions will be based on figures & diagrams, checkout the Syllabus.
Odd-one Out
Figure Series Completion
Figure Matching
Pattern Completion
Analogy
Geometrical Figure Completion (Triangle, Square, Circle)
Embedded Figure
Space Visualisation
Punched Hole Pattern – Folding/ Unfolding
Mirror Imaging
Arithmetic Test
LCM & HCF
Number & Numeric System
Approximation of Expressions
Percentage & Its applications
Decimals & Fundamentals Operations
Four Fundamental Operations on the Whole Number
Simplification of Numerical Expressions
Conversion of fractions to decimals and Vice-Versa
Distance, Time & Speed
Fractional Number & Four Fundamental Operations on them
Applications of the number in measure mass, length, time, money, capacity, etc.
Factors and Multiples Including their properties
Profit & Loss
Simple Interest
Perimeter, Area & Volume
Language Test
It is conducted to check the candidate' reading skill, there will be four passages, a total marks of 5th MCQs will be asked from each, students will have to answer it by reading the passage.
How to Check Navodaya Class 6 Exam Date 2023 Online?
In order to download the Syllabus for Class 6th Selection List you need to go through the step-by-step guide, which is available below.
Go to the official web portal of the Navodaya Vidyalaya Samiti, which is accessible at navodaya.gov.in.
Post tapping on the above take the hint option, you will find an option of the Students under the section of the Facilities in JNVs, tap on it.
Now, you will find an option of the JNVST 2023 Syllabus, tap on it.
At the last, you will find an option of the Class VI, tap on this option & download the PDF to prepare for the examination.
Related Post:-