PGIMER B.Sc. Paramedical Syllabus:- Applicants who applied for the PGI Chandigarh Entrance Paper 2023 must check this article completely. Here, we have provided the PGIMER Paramedical Entrance Paper Syllabus 2023 in detail. So, to clear the Entrance Exam with a very good grade, all applicants must prepare from this PGI Paramedical Entrance Exam Syllabus 2023. And it can be download in PDF format from the direct site attach at end of the page.
PGIMER B.Sc. Paramedical Syllabus 2023
PGIMER Paramedical Entrance Exam 2023 is for various courses & the Test Pattern for each course is described in the following sections. PGIMER Paramedical Entrance Exam contains all Objective Type Questions and the questions will be asked in the 10+2 standard. The subjects to prepared and total questions with respective their marks are provided in the below tables. So all candidates must check them before starting your test preparation.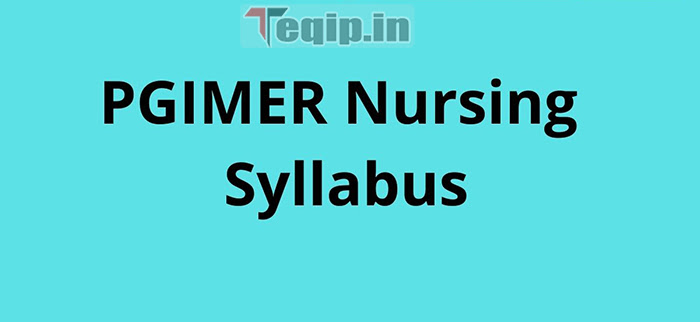 PGIMER B.Sc. Paramedical Syllabus 2023 Details
| | |
| --- | --- |
| Organization Name | Postgraduate Institute of Medical Education & Research, Chandigarh |
| Exam Name | PGIMER Paramedical Entrance Exam |
| Category | Syllabus |
| Purpose of Exam | Admission into B.Sc. Paramedical And Bachelor Of Public Health Courses 2023 Session. |
| Official Site | pgimer.edu.in |
Check Also:- India Post GDS Recruitment
PGIMER BSc Nursing 2023 Syllabus
The syllabus for the BSc Nursing is the same as of class 12th. The questions will be available in the Multiple-Choice Questions and candidates have to choose one answer out of the four given options. There will be 100 questions in total, including 10 questions from the English section. Below is the detailed syllabus for PGIMER BSc Nursing.
Biology
The Difference between Prokaryotic & Eukaryota
Cell Theory
Structural Organization of Cell
Mendel's Law of Inheritance
Classification Binomial and Nominal Nomenclature
Five Kingdom Classifications
The Role of Plants in Human Welfare
Mineral Nutrition Essential Elements and their Function
Physics
Current Electricity
Electromagnetic Induction
Electronic Devices
Alternating Current
Atoms and Nuclei
Communication Systems
Electromagnetic Waves
Optics
Dual Nature of Matter
Electrostatics
Magnetic Effect of Current & Magnetism
Chemistry
Solid State
Biomolecules
Chemistry in Everyday Life
General Principles & Processes of Isolation of Elements
Solutions
Chemical Kinetics
Electrochemistry
Polymers
P -Block Elements
Surface Chemistry
D & F -Block Elements
Organic Compounds containing Nitrogen
Alcohols
Phenol & Ester
Coordination Compounds
Keystones and Carboxylic Acids
General English Syllabus
Comprehension passage
Synonyms / Antonyms
Spot the error
Fill in the blanks
One word substitutions
Shuffling of sentence parts
Shuffling of Sentences in a passage
Improvement
Close passage
Detecting Mis-spelt words
Idioms and phrases
Read Also:- DDU Gorakhpur University Time Table
PGIMER BSc Nursing Syllabus
The GNM course's syllabus is the same for the BSc Nursing program. The questions will be Multiple-Choice Questions (MCQs), and candidates will only have four options to choose from. There will be a total of 100 questions, 10 of which will come from the English section. The PGIMER BSc Nursing syllabus is provided in detail below.
Subjects
Topics
Anatomy and Physiology

Introduction to anatomical terms
Organization of body cells, organs, tissues, etc.
Skeletal systems
Muscular systems
Cardio-vascular systems

Microbiology

Introduction and Scope of Microbiology
Micro-organisms
Infection and its transmission
Immunity
Introduction to Laboratory Techniques

Psychology

Introduction
Psychology of Human Behaviour
Learning
Observation
Intelligence
Personality

Sociology

Concept, Scope, and Nature of Sociology
The Individual
The Family
The Society
The Community
Economy

Fundamentals of Nursing

Introduction to Nursing
Nursing care of patient/client
Basic Nursing care and needs of a patient
Assessment of patient
Therapeutic nursing care
Introduction to Pharmacology

First Aid

Importance of First-Aid
First-Aid in emergency situations
Community Emergencies

Personal Hygiene

Concept of Health
Maintenance of Health
Physical Health
Mental Health

Medical-Surgical Nursing I

Introduction
Nursing Assessment
Patho Physiological Mechanism of Disease
Altered Immune Response
Clinical Pharmacology

Communicable Diseases

Assessment
Review of infection, how it spreads and its control
Reparation, care, and administration of antisera and vaccines
Isolation- review of epidemiology and control measures
Management of various infectious diseases

Ear, Nose, and Throat

Assessment of the functions of ear, nose, and throat.
Disorders and diseases of the ear, nose, and throat.
Management of disorders and diseases of ear, nose, and throat

Oncology/Skin

Nursing Management of Patients with abnormal cell growth
Classification of cancer
Detection and prevention

Mental Health and Psychiatric Nursing

Introduction
History of Psychiatric
Mental Health Assessment
Community Mental Health
Psychiatric Nursing Management
Mental Disorders

Community Health Nursing

Introduction and Importance

Computer Education

Introduction to computers and disk operating systems
Introduction to word processing
Introduction to database
Graphics and use of Statistical packages
Computer aided teaching and testing

Midwifery and Gynaecological Nursing

Introduction
Reproductive System
Nursing Management of pregnant women
Nursing Management of women in Labour
Complications of pregnancy and its management

Community Health Nursing – II

Health System in India
Healthcare services in India
Health planning in India
Specialized Community health services
Vital health statistics

Paediatric Nursing

Concept in child healthcare
The Newborn
The Healthy child
Children with various disorders and diseases
Welfare of children
Can Check:- NHM Meghalaya Recruitment 
How to Check PGIMER B.Sc. Paramedical Syllabus 2023?
All of the information about the PGIMER – B.Sc. will be provided in this section of the article. Form for Paramedical 2023 Application Before filling out the PGIMER – B.Sc., students are urged to read all of the information. Form for Paramedical 2023 Application.
First, visit the website of pgimer.edu.in B.Sc. Paramedical 2023 Request Form.
After that, you need to register the request form of PGIMER B.Sc. Paramedical 2023.
Then you need to fill the form with your details to make sure you don't make any mistakes in filling the PGIMER – B.Sc. Paramedical 2023 Application Form.
Then you need to upload your papers on the website for the PGIMER B.Sc. Paramedical 2023 Application Form.
Then, at last, you need to pay the fees for the PGIMER B.Sc. Paramedical 2023 Application Form.
Document required while filling application form
You get all the particular required to apply for the PGIMER – B.Sc. Paramedical 2023.
10th Marksheet/ Passing Certificate
12th Marksheet and Passing Certificate
Passport size photographs
Scanned Signature
Valid Email ID and Mobile number
Category Certificate (If Needed)
Fee payment method (Net Banking/ Credit Card/ Debit Card/ UPI)
Leaving Certificate
Transfer Certificate
Print out the online application form
Related Post:-