Pudhumai Penn Scheme:-A model school program and social welfare initiative were launched in Tamil Nadu by M K Stalin and Arvind Kejriwal. Stalin, the Chief Minister, officially launched the Moovalur Ramamirtham Ammaiyar Higher Education Scheme, also known as the "Pudhumai Penn Scheme." Young women enrolled in educational institutions would receive financial assistance through the program. Additionally, this program aims to boost female students' overall well-being and encourage them to continue their education. The Puthumai Penn Scheme, along with its objectives, significance, and benefits, are the subject of the article. We'll also talk about this plan's most important features.
Pudhumai Penn Scheme 2023
On September 5, M.K. Stalin, Chief Minister of Tamil Nadu, dedicated "Pudhumai Penn" in Chennai. Arvind Kejriwal, the chief executive of Delhi, was there. An event was held by Bharathi Women's College in Chennai. Mr. Kejriwal presented 15 model schools and 26 schools of excellence at the ceremony, both of which were established by the Tamil Nadu government as an imitation of his AAP administration in Delhi.
Pudhumai Penn, which translates to "modern woman," has been retained as the scheme's name to emphasize that it provides both financial assistance and a focus on the present. This Pudhumai Penn is described as a "revolutionary plan" that "will be pathbreaking and revolutionary in the next few years due to the wisdom to concentrate on modern times."
The majority of people support enhancing and focusing on education due to the country's deteriorating education system. As a result, the state government has taken measures to improve education, one of which is launching the Pudhumai Penn Scheme to support the educational system. The education of female residents is another area of focus for this initiative. The Moovalur Ramamirtham Ammayar memorial "Puthumai Penn" (Modern Woman) Scheme was established by Mr. Stalin. It stipulated that female students who attended government schools from grades 6 to 12 and expressed an interest in pursuing higher education were eligible to receive a $1,000 monthly stipend.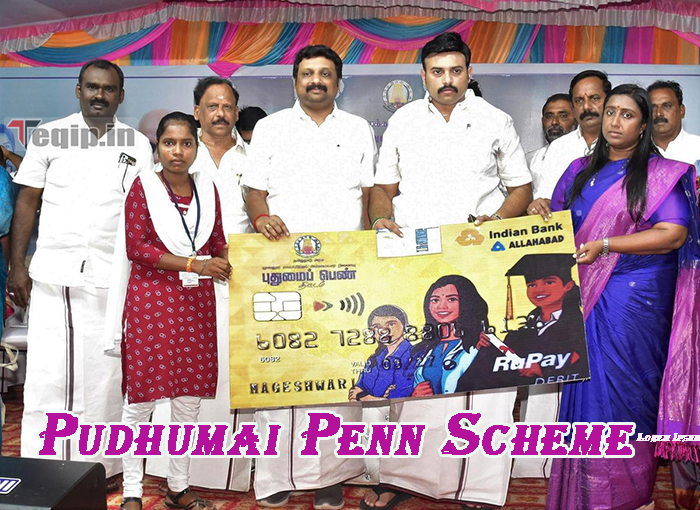 Pudhumai Penn Scheme 2023 Details
| | |
| --- | --- |
| Name of the scheme | Pudhumai Penn Scheme |
| Launched by | Tamil Nadu government |
| Date | September 5 |
| Beneficiaries | Class 6 to class 12 girl student |
| State | Tamil Nadu |
| Stipend | Rs 1000 monthly |
| Category | Government Scheme |
| Official website | www.pudhumaipenn.tn.gov.in |
Tamil Nadu Puthumai Penn Scheme Objectives
Since the country's education system is deteriorating, the majority of people support the idea of upgrading and focusing on education. The initiative places an emphasis on female students who require financial assistance to learn. This suggests that the education of female residents is another objective of this program. The purpose of this program, which is known as the Pudhumai Penn plan, is to assist economically disadvantaged families that are unable to send their daughters to college due to financial constraints. By providing student girls with a basic amount of Rs 1,000 to support their education, the Pudhumai Penn Scheme assists them in excelling during their crucial career periods.
Pudhumai Penn Scheme Benefits
The Pudhumai Penn Scheme has the advantages listed below:
Different from other schemes, the Pudhumai Penn Scheme focuses on providing financial assistance, encouraging female students to continue their education, and preventing parents and guardians from allowing daughters to marry young.
The Puthumai Penn Scheme is going to usher in a new era of innovation within the next few years due to its foresight to focus on current circumstances.
Female students who are pursuing an education until they have either graduated or earned a certificate or diploma, regardless of their field, will receive a monthly cash award of Rs 1,000.
This program helps young women gain confidence because it is common knowledge that female students in our nation are discouraged from pursuing education.
The scheme has a budget of Rs 698 crore and aims to assist 6 lakh females annually.
Money would be deposited into student bank accounts right away under Pudhumai Penn to guarantee their education.
This means that only the children and the bank will act as intermediaries when receiving money.
The plan empowers women and discourages child marriage.
Anything that would damage their pride should not be accepted.
Throughout the initial phase of the plan, 613 students received debit cards.
When it comes to the scheme's initial phase, approximately 6,500 students currently enrolled in engineering, science, and arts institutions in the Tiruchi district will benefit.
Pudhumai Penn Scheme Eligibility
The following are the fundamental eligibility requirements for the program:
The applicant must be an Indian citizen who resides in the state of Tamil Nadu.
Student applicants are required.
In order to benefit from this program, applicants must be female and in the sixth through twelveth grades.
Puthumai Penn Scheme needed
The following is a list of the documents required for the scheme:
Aadhar card or voter ID.
Residential Proof.
Guardian's/ parents' mobile number.
How to Apply for Pudhumai Penn Scheme?
If you are looking for an innovative way to invest in the growth of your business, the Pudhumai Penn Scheme may be the perfect solution for you. This government-backed scheme offers low-cost funding to entrepreneurs who are looking to start or expand a business in the agriculture, food processing, and allied sectors. If you are eligible and wish to apply, read on for more information on how to go about it.
The applicant must visit the scheme's official website in order to apply www.pudhumaipenn.tn.gov.in
On the screen, the website's home page will be displayed.
You must select the Institute/College login option on the homepage. A new page will appear on the screen.
If you are already registered, enter your login information or select the registration option.
Login successfully after successful registration.
Fill in the information on the application form.
Check the information provided and upload the relevant documents.
Now select the option to submit.
Related post :-
Gujarat Citizen Smart Card Scheme 2023