SSC GD Exam Center List:- As everyone knows that SSC GD Recruitment Information 2023 was released by the Staff Selection Commission under which lakhs of candidates applied online. Candidates have to note that SSC GD examination date is fixed according to which the exam will be conducted from 10th January 2023 to 14 February 2023. This exam will be conduct at various exam centers across the country and applicants appearing in the exam can download SSC GD Exam Center List 2023 by visiting the official website.
SSC GD Exam Center List 2023
SSC GD Paper centers 2023 released by the commission with the official notification. SSC GD exam is conducted across the nation in online mode from January 10th, 2023. Staff Selection Commission conduct the GD Constable paper in multiple shifts in a time frame of around one month. The Physical Efficiency Test Physical Standard Test is manage by the designated authority only. They have their own examination centers. Previous year Central Reserve Police Force conducted the PET/PST and the Particular Medical Examination at their exam centers. The SSC GD exam 2023 is time table to be held from January 10th to February 14th, 2023, across the nation at the designated exam centers.
SSC GD PET and DME exam centers are very few and the applicant need to arrange for the commutation to the examination Centre. SSC inform the candidates about their exam center's through the SSC GD admit card only. The application status does not inform about the exam Centre, it only informs about the paper date. The candidates select their exam center's in the application form. SSC allot the paper centers as per availability and choice.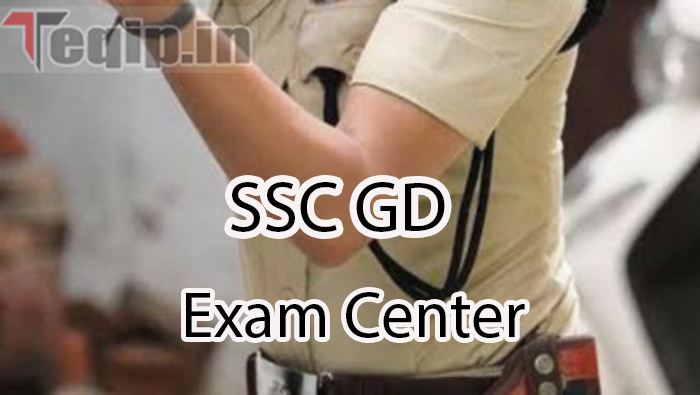 SSC GD Exam Center List 2023 Details
Check Also:-Army 12th TES 49 Online Form
About SSC GD
Staff Selection Commission is an organization under Government of India to recruit staff for various posts in the various ministries and departments of the government of India and in subordinate offices. This commission is an attached office of the Department of Personnel and Training which consists of chairman, two members and a secretary-cum-controller of examinations. His post is equivalent to the level of additional secretary to the government of India.
The estimates committee in the parliament recommended the setting up of a Service Selection Commission in its 47th report for conducting examinations to recruit lower categories of posts. Later, in the Department of Personnel and Administrative Reforms, on 4 November 1975 government of India constituted a commission called Subordinate Service Commission. On 26 September 1977, Subordinate Services Commission was renamed as Staff Selection Commission. The functions of Staff Selection Commission were redefined by the government of India through Ministry of Personnel, Public Grievances and on 21 May 1999. Then the new constitution and functions of Staff Selection Commission came into effect from 1 June 1999. Every year conducts the Combined Graduate Level Examination for recruiting non-gazette officers to various government jobs.
ssc.nic.in Exam Centers 2023
You are aware that the official announcement for the SSC GD Recruitment Test 2023 was released, with a total of 45284 open positions. Thousands of people applied online, and now everyone is anxiously awaiting the SSC GD Exam Centers 2023. The State Wise SSC Exam Centers List 2023 has been published on the SSC's official portal, providing candidates with information about their closest exam center. This is good news for all candidates taking the exam. The exam center of each candidate's choice has been provided.
Read Also:- APPSC Group 1 Notification
SSC GD Exam Centers State-Wise 2023
Lakhs of candidates have submitted online applications for the SSC Recruitment Examination, which is being held at the national level by the Staff Selection Commission (SSC). The Exam Center List for SSC GD 2023 has been made available to exam takers on the official website. By going to the official website, all candidates can download the list of exam centers.
| | |
| --- | --- |
| State/UT Name  | Code |
| Andaman and Nicobar Islands | 01 |
| Andhra Pradesh | 02 |
| Arunachal Pradesh | 03 |
| Assam | 04 |
| Bihar | 05 |
| Chandigarh | 06 |
| Chhattisgarh | 07 |
| Dadra and Nagar Haveli and Daman and Diu | 08 |
| Delhi | 09 |
| Goa | 10 |
| Gujarat | 11 |
| Haryana | 12 |
| Himachal Pradesh | 13 |
| Jammu and Kashmir | 14 |
| Jharkhand | 15 |
| Karnataka | 16 |
| Kerala | 17 |
| Ladakh | 18 |
| Lakshadweep | 19 |
| Madhya Pradesh | 20 |
| Maharashtra | 21 |
| Manipur | 22 |
| Meghalaya | 23 |
| Mizoram | 24 |
| Nagaland | 25 |
| Odisha | 26 |
| Puducherry | 27 |
| Punjab | 28 |
| Rajasthan | 29 |
| Sikkim | 30 |
| Tamil Nadu | 31 |
| Telangana | 32 |
| Tripura | 33 |
| Uttar Pradesh | 34 |
| Uttarakhand | 35 |
| West Bengal | 36 |
How to Check SSC GD Exam Center List 2023 Online?
If you are preparing for the SSC GD Exam and are looking for a center to take the exam, then you have come to the right place. Here we will be providing you with a list of all the centers that are authorized to conduct the SSC GD Exam. Before you can start checking the list, however, you will need to make sure that you have registered for the exam. If you have not registered yet, then please go ahead and do so now. Once you have registered and logged in, you can start checking the list of centers.
First of all, you have to visit the official website of Staff Selection Commission which is as follows ssc.nic.in.
After this you have to click on the option of SSC GD Exam Center Records 2023.
After this, on the open page, you will have to login with login particular, select your state name, district name and gram panchayat and click on submit.
After this you will see SSC GD Constable Exam Centers 2023 on the official portal, which you can easily load.
Can Check:- Delhi Police Head Constable Answer Key
Staff Selection Commission paper will be conducted at designated exam centers only.
Candidates can download Exam Center Records 2023 through official portal only.
Candidates will get the complete particular of their exam center through their admit card which will be publish 3 days prior to the exam on the official website.
Applicants must reach the exam center 30 minutes before the commencement of the exam.
It will be mandatory for all the Applicant to reach the examination center and follow all the guidelines related to the examination.
Apart from this, no students will be allowed to carry any kind of electronic device or study material to the examination center.
Important Documents to Carry to SSC GD Constable Exam Hall
All candidates should bring their admit card with them to the SSC GD exam hall because without it, no student will be allowed in. However, all students should also bring the other documents listed below as proof of identification.
Photo
Photo copy of Aadhaar card
driving license
pan card
Passport
Candidate's I-Card of the Institute is working/reading
Any other relevant ID proof
Related Post:-