TTD Senior Citizen Darshan –Online reservations for Tirumala Senior Citizen Darshan 2023 are available for February 2023. TTD senior citizen darshan 2023 online reservation, age limit, and additional information can be found at https://online.tirupatibalaji.ap.gov.in. Tickets for Seniors and Physically Challenged can be downloaded from the direct link below.
Everyone is aware that the Tirumala Tirupati Devasthanams offer senior citizen darshan to pilgrims over the age of 65 and those who are physically disabled. However, COVID had prevented seniors from participating in darshan for more than a year and a half. However, this Senior Citizen Darshan has been restarted, which is really good news for the elderly and people with disabilities. You'll find everything you need to know about Senior Citizen Darshan 2023 in this article, including directions, times, and more.
TTD Senior Citizen Darshan 2023
TTD introduce a new program called Senior Citizen Darshan, which was design specifically for elderly and physically handicaps individuals. A special darshan quota and pilgrimage entry point are provide by TTD here. TTD Senior Citizen Darshan 2023 strives to provide pilgrims entering Tirumala with the best facilities possible at all times. This scheme had once more demonstrate the same thing. A ticket should be obtainer by devotees going to darshan from the counter listed below.
This plan eliminates the need for people who are unable to walk to stand in long lines and hastily search for tickets. The following time slots and entry point for darshan are provided by this plan.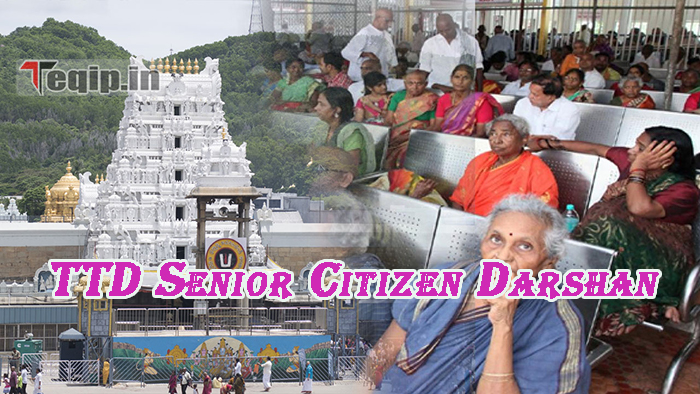 TTD Senior Citizen Darshan Details
Place
Tirumala
District
Chittoor
State
Andhra Pradesh
Darshan Name
Tirumala Senior citizen Darshan 2023
Darshan candidate
Senior Citizen, Medical cases tickets, Physically or differently abled citizen
Pilgrims
Aged above 65 and one assistant or helper for each aged person (if they can't walk without help)
Time slots
1st Slot 10:00 AM (All days except Friday)
2nd Slot 03:00 PM (All days except Friday)
Friday Time Slot
Only slot at 03:00 PM (On Friday)
Ticket Counter
Vaikuntha Queue complex, Opposite to S.V Museum (Now a days not issuing any offline tickets in tirumala).
Darshan Entry Point
S1 Counter (or) Near Tirumala Nambi Temple
Category
Trending
Official Website
tirupatibalaji.ap.gov.in
Check Also:- Laxmi Bhandar Status
About ttd senior citizen darshan 2023 online booking
The steps to making a reservation for Senior Citizen Darshan in Tirumala are listed below. Since there is currently no offline ticket booking option, pilgrims must only book their tickets online. Steps: Online Booking Release Dates for TTD Senior Citizen Darshan in 2023: every month in the final week of 2023.
Senior citizens can now schedule their Darshan appointments online on the TTD website. In the virtual queue, the majority of people wait between 5 and 10 minutes, though this varies depending on how many tickets are available and how many people want to join. Enter both your phone number and the captcha code. The Tirumala Darshan release dates for May 2023 can be found by clicking here. The Senior Citizen Darshan quota tickets can be purchase online by pilgrims. Pilgrims can download the atonement app to keep up with the most recent information about the Tirumala temple. Pilgrims can use the Senior Citizen Darshan Quota for free.
Read Also:- APSRTC Student Bus Pass
Tirumala Senior Citizen Darshan Details 2023
Senior citizen darshan is offer to those over the age of 65.
In addition to a devotee who is at least 80 years old, this darshan allows for the participation of an assistant or single person.
This is a ticket that can only be purchase in person and must be pick up at Tirumala prior to darshan. Additionally, the official website now offers online ticket booking.
Senior citizens are not require to pay for this darshan.
The first darshan time slot begins at 10:00 AM and the second begins at 3:00 PM (reporting will begin at 1:00 PM).
There is only one time slot available on Fridays at 3:00 PM.
Darshan should be request by the devotee with their Aadhar card as proof of age and identity. The S1 Counter (or) Supatham (or) vicinity of the Tirumala Nambi temple may serve as the darshan entry point.
In Tirumala, offline tickets are no longer issue.
What is 2023 TTD Senior Citizen Darshan Tirumala Online Booking
For online reservations for TTD Senior Citizen Darshan 2023 Tirumala, go to this link. Seniors' Instructions for the Booking Process: The devotee is require to show their Aadhaar card as proof of identity. If the spouse is over the age of 65, the woman may be eligible for darshan. Darshan is open to anyone over the age of 80 who lends a hand. If they book their tickets offline, they must collect their tickets near the Tirumala office, as online ticket booking has only recently begun.
There will be two times each day for senior citizens to have darshan: in the morning at 10 a.m. and in the afternoon at 1 p.m. The time for reporting will be two hours prior to the darshan. Each individual has access to this darshan four times per year. Children under the age of 12 are not permit to attend the darshan with devotees. If you have significant health issues, you can obtain a doctor's certificate and be permit to attend this darshan. The Senior Citizens will only allow in the afternoon, at 3:30 p.m., on Friday.
Can Check:- AP EWS Certificate Application Form
How to use Tirumala Tirupati Devasthanams
a multilingual online service that lets pilgrims use any Seva, special entry darshan, lodging, Hundi, Kalyana vedika, electronic DIP for the Seva, and Lord Venkateswara-relate diaries or calendars. a provider of e-commerce services that allows pilgrims to make direct or card payments. This Special Darshan is also open to people who are elderly, have physical disabilities, are in the military, and children under the age of one. This Darshan has a daily limit of 1500 participants. Darshan will take place at 10:00 AM for the first 750 people, and at 3:00 PM for the remaining 750 people. For senior citizens, TTD Senior Citizen Darshan 2023 Trust has create "Supatham" entry gates.
This makes it easier and more convenient for them to take the Tirupati Balaji's Devdarshanam. The procedure for senior citizens to purchase and register for TTD Darshan tickets online is outline in the following steps: Go to TTD Trust's official website by selecting TTD Tirupati Balaji. By purchasing tickets for "Differently Abled/ Senior Citizen/Medical Cases" well in advance through tirupatibalaji.ap.gov.in, a pilgrim can attend Lord Sri Venkateswara's darshan in Tirumala.
Read Also- UPPCL Accounts Officer Online Form
How To Check TTD Senior Citizen Darshan 2023 Online?
The information regarding the preceding subject can be found in this section. We are aware that the Tirumala Balaji temple receives between 60,000 and 70,000 devotees daily. By booking tickets online, fans avoid standing in long lines at traditional ticket counters. For senior citizens, TTD Trust has create "Supatham" entry gates. This makes it easier and more convenient for them to take the Tirupati Balaji's Devdarshanam.
You can directly log in by going to the TTD Trust's official website and selecting TTD Tirupati Balaji. If you already have your user name and password, you can do so. tirupatibalaji.ap.gov.in
In the login section of the home page, you must select the New Register options for new users.
In the appropriate column, provide your name, Aadhar card number, active mobile number, and other personal information.
Please choose a password that is simple to remember when creating your user name and password.
Finally, after completing all of the columns, select the "Register Now" option at the page's bottom.
The OTP will be request by the website. Your register mobile number will receive the OTP.
You will need to enter your newly create user name and password to log in after providing the OTP. For security, please enter the given captcha.
Select the Senior Citizens Ticket Booking option now.
Enter the desire number of tickets.
Then enter the other people's information.
At the page's bottom, select the Book Ticket option.
When you go to the Tirupati Balaji temple in the future, make a copy of your ticket and print it out.
Rules for TTD Senior Citizen Darshan Registration
The following are the special instructions for seniors to use when booking TTD Darshan online:
Every senior devotee is require to carry their Aadhar card.
If the husband is over the age of 65, married couples can have devotees.
With devotees over the age of 80, one attendant is allow.
Medical records are permit for devotees with persistent health issues.
Devotees who reside in senior citizen facilities are the only ones permit to return after 90 days.
Grandchildren under the age of 12 are not permit to accompany senior citizens.
TTD reserves the right to cancel tickets only in exceptional circumstances.
Related post :-
BSNL Complaint Register Online 2023