Central Bank of India Manager Syllabus:- The Indian Central Bank Manager Syllabus 2023 is an important resource for applicants preparing for the upcoming Indian Central Bank Manager test. This Central Bank of India Manager Scale 2 2023 exam pattern provides a comprehensive overview of the topics and subjects covered in the test to help applicants prepare more specifically to increase their chances of success.
A good understanding of the syllabus for the Central Bank Manager of India exam 2023 will enable candidates to develop a well-structured study plan and ensure that they cover all the areas required to perform well on the exam. Additionally, you can download the Indian Central Bank Manager Curriculum 2023 in PDF format at the end of this article.
Central Bank of India Manager Syllabus 2023
Indian Central Bank Manager Exam Sample 2023 is equally important as it provides an insight into the format and structure of the exam. Understanding exam patterns can help candidates manage their time effectively during the exam and develop a strategic approach to working on different sections.
The Central Bank Of India Manager Syllabus and exam pattern will help candidates streamline their preparation and gain confidence in their ability to perform well on the exam. Candidates are encouraged to read and apply the 2023 Central Bank Manager Scale II Syllabus to maximize their chances of success on this competitive exam.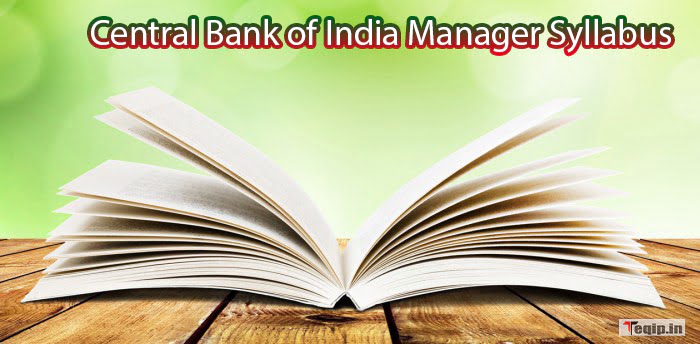 Central Bank of India Manager Syllabus Details
Check Also:- MPPSC Veterinary Assistant Surgeon Syllabus 2023
Central Bank of India Manager Syllabus 2023 PDF
The Central Bank Manager Scale II Syllabus 2023 serves as a comprehensive guide for candidates preparing for the test. The Central Bank of India Management Core includes subjects such as Banking, Computer Skills, Current Economic Scenarios and General Awareness. To help you prepare for the exam, we provide topics to study for each of these subjects in sections.
Central Bank of India Manager Exam Pattern 2023
Central Bank of India Manager Scale 2 Exam Pattern 2023
S. No.
Sections
No. Of Questions
Maximum Marks
Time Duration
1.
Banking
60
60
Composite Time Of 60 Minutes
2.
Computer Knowledge
20
20
3.
Present Economic Scenario & General Awareness
20
20
Total
100
100
60 Minutes
Note:
The

test

will

be

conducted

in

two

languages.

H.

English

and

Hindi.




Candidates

who

pass

the

online

test

will

be

invited

for

an

interview.




The

interview

will

be

conducted

on

a

scale

of

100.

The

minimum

interview

score

is

50%

for

general/EWS

candidates

and

45%

for

SC/ST/OBC

candidates.
Central Bank of India Manager Syllabus –  Banking Exam Topics
Banking Reforms
Regulatory Bodies in India- NABARD, SEBI, etc.
International Banking
Latest circulars of RBI and SEBI
Indian Financial System
Financial market instruments
Latest Acts related to Banking
Latest mergers and MOUs of banks and financial institutions
Heads of various financial organizations
Priority Sector Lending
IBC Code
NPA – latest news
Negotiable Instrument Act
SARFAESI Act
RBI Monetary Policy
Latest Updates in Financial & Capital Markets
Financial Terms
Banking Terms
News related to Banking and the Economy
Capital & Money Market Instrument
Commercial Banks, NBFCs, HFC – Latest news
Mergers and Acquisitions in Banking Companies
Credit Rating and Agencies
Payment Options- NEFT, RTGS, Bharat Bill payment, etc.
Important Loan Agreements with National/International Organizations
Apps and Portals Launched by Bank
Important committees
Foreign investment and trade
Growth numbers by various organization
Union Budget 2023-34
Payment Banks Headquarters and Taglines
Government Schemes Related to Banking
Mutual Funds
Basel Norms
Products Launched by Various Banks
Full Forms of Bank Names
Small Finance Banks in India
Bank Slogans and Punchlines
Ratio analysis, Cost of capital, Cash Flow Statement
IBAC
Read Also:- NPCIL Syllabus 2023
Computer Knowledge Exam Topics
Fundamentals of Computer [History, Types, etc.]
Generation of Computer
Hardware & Software [Operating System, Types of Software, Compiler, Interpreter, etc.]
Input & Output Device
Memory
Multimedia- its component & Uses [Audio, Video, Streaming, Animation, Adobe Flash, etc.]
Introduction of MS Window
Number System [Binary Number, Conversion, etc.]
Computer Language – Generation & its Type
DBMS – Basic Introduction & Software
Computer Network [TCP & OSI Model, Protocol, Topology, Methods of Communication, Networking Device and Components]
Introduction of Internet
MS Office & its application [MS Word, MS PowerPoint, MS Excel – Uses & Shortcut keys]
Internet's Keywords
Computer Shortcut keys
Computer Abbreviations
Use of Internet [Internet Protocol, E-mail, Chatting, E-Commerce, Internet Browser & its shortcut key, etc.]
Network & Data Security [Firewall, Virus, Warm, Malware, Trojan Horse, Key logger,
Spyware, Hacking, Phishing, Sniffing, Internet Security, Antivirus, User: Identification,
Authentication, Biometric, etc.]
Cyber Crime & Cyber Security
Also Check:- HBNI CAT Previous Question Paper 2023
Central Bank of India Manager Syllabus General Awareness Exam Topics
National Current Affairs
International Current Affairs
State Current Affairs
Business & Economy Related News
Important Days
Sports News
Central Government Schemes
Agreements/MoU
Economic Survey 2022-23
Ranks/Reports/Indexes
Books & Authors
Summits & Conferences
Obituaries
Important Appointment
Defense News
Important Awards & Honours
Union Budget 2023-24
Science & Technology News
Banking and Financial Awareness
Static Awareness
Recent RBI Circulars Based Questions
Note: The Central Bank of India Manager Syllabus 2023 Topics listed here by section are for reference purposes only.
Central Bank of India Manager Syllabus 2023 FAQ'S
How will candidates for the Central Bank of India Manager Scale II 2023 be chosen?
The choice interaction for the National Bank of India Director Scale II 2023 incorporates a web-based composed test followed by an individual meeting.
For the Manager Scale II position at the Central Bank of India, where will the workplace be?
The Central Bank of India Manager Scale II position can be filled anywhere in India.
Related Post:-  
JEE Advanced Previous Question Paper 2023
Indian Air Force Agniveer Syllabus 2023
Azim Premji University NET Syllabus 2023