How To Prepare For MHT CET:- The MHT CET PCM exam and the PCB exam will be offered by MHT CET from May 9 to 13, 2023, respectively. In order to achieve the desired score on the exam, candidates must intensify their preparations. The syllabus for the MHT CET exam in 2023 has been made public by the authorities.
The MHT CET 2023 exam pattern, syllabus, important chapters, and tips for preparation are discussed in this article. To ensure that each candidate performs to the best of their abilities, we have also included a last-minute study plan. For additional information, continue reading the article. If you want to do well on the exam, you need to know specific strategies for preparation. Not only will these advice improve your preparation for the MHT CET, but they will also help you prepare for other exams that are thought to be easier than it.
How To Prepare For MHT CET 2023
The Maharashtra Common Entrance Test, also known as the How To Prepare For MHT CET 2023 is a state-level exam that determines who will be admitted to the various undergraduate programs offered by Maharashtra's colleges.
This exam is held by the government of Maharashtra through the State Common Entrance Test Cell for admission to courses in engineering, agriculture, pharmacy, technology, and other fields. Here are some very important tips for preparing for the MHT CET 2023 exam that will help candidates get good marks. Candidates are encouraged to improve their preparation by solving previous year's papers and taking practice tests in addition to these preparation tips.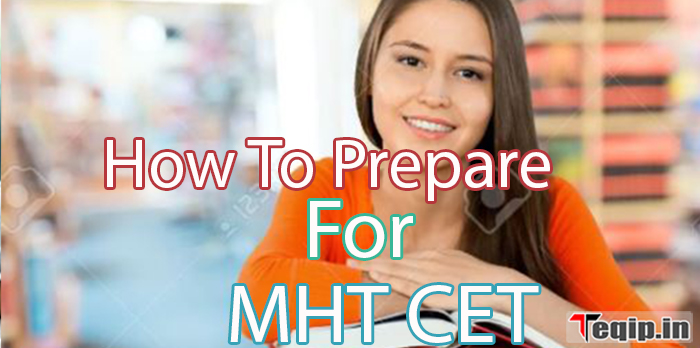 How To Prepare For MHT CET 2023 Details
| | |
| --- | --- |
| Particulars | Specifications |
| Exam Name | Maharashtra Common Entrance Test |
| Commonly known as | MHT CET |
| Type of Exam | State Level |
| Exam Conducting department | State Common Entrance Test Cell, Maharashtra |
| Category | How To Guide |
| Mode of Exam | Online |
| Official Website | cetcell.mahacet.org |
| Number of participating institutes (as per 2020 statistics) | 342 Institutes |
| Number of Seats Available (as per previous year) | 127537 Seats |
Check Also:- ITBP Constable/ Tradesmen Online Form
Best Books for MHT CET 2023 Preparation
For information on some of the greatest MHT CET 2023 texts for exam preparation, candidates may look at the table below. Candidates are also advised to study NCERT and their school notes in addition to the books listed below.
MHT CET 2023 Best Books
| Name of Books | Author | Publication |
| --- | --- | --- |
| Marvel Physics for Medical & Engineering Entrance Exam | A. J. Bapat | Marvel Prakashan |
| MH-CET Engineering Solved Papers with 5 Complete Mock Tests | Various Experts | Arihant Publications |
| Pradnya's Objective Mathematics | C. S. Patil | Nikita Publication, Latur |
| Chemistry for MHT CET (MCQ) | Mayur Mehta and Chitra Joshi | Marvel Publication |
Study Materials & Sample Papers
You will have a better chance of passing the exam if you study the best books and study materials. Prepare from the best books you can find. Also, practice the questions from the previous year to get a good understanding of the MH CET 2023 exam pattern. You'll be able to better manage your time to solve questions if you try to complete sample papers or questions papers on time. You can learn about the type of questions, their weighting, the exam's difficulty level, and other details by practicing.
Check also:- BTEUP Result 2023
Subject Wise Tips To Prepare For MHT CET 2023
To pass How To Prepare For MHT CET 2023 each syllabus topic is important. Candidates should prepare subject-specifically. When creating the question paper for the exam, standard XI curriculum will receive 20% of the weight and standard XII curriculum will receive 80% of the weight. Instead of using the same method for all subjects, try to follow study patterns by subject.
Physics
Physics is a quite typical subject because physics has mathematical calculations and derivation, so it requires more and more practice. Candidates can excel in physics by regular practice and focusing on solving the derivation rather than cramming it. Candidates should go through previous year papers and refer books from NCERT, as they will help in getting the fundamental concepts strong.
Solving numerical physics questions is a big challenge for students, so regular learning improves calculation skills.
Keep a check on time while solving a question this helps in better time management during the exam.
Chemistry
Chemistry is the most scoring subject in MHT CET 2023. Students can get good marks with a little hard work in this portion. Mostly, Questions in Chemistry will be asked from the 12th standard level, so to ace the exam you need to master this subject.
Students have to study all the basic concepts of chemistry, try to understand equations of all molecules and mixtures.
Numerical part of chemistry is not too difficult so candidates can easily attain very good marks.
Biology
Biology is one of the important subjects for MHT CET 2023. So, Candidates need to prepare well for all the concepts of Biology. Biology consists of questions from Zoology and Botany. So, students have to get clear with all the fundamentals of the subject and also use flow charts. Candidates should properly revise topics from zoology and Botany because concepts or wording used in these subjects is difficult and confusing, so constant revision is always helpful.
Make sure that you are preparing with the latest syllabus and exam pattern.
Study Zoology and Botany in a regular manner because marks are distributed equally for both.
Mathematics
Mathematics is totally based on calculations and derivations, so you need to work on calculations. Focus more on topics like Conic Section with an ellipse, hyperbola, parabola, and rectangular parabola, Trigonometry, Vectors, 3D and Integral Calculus to get good marks. Remember you will not be allowed to take any calculator in the exam hall. Solve all the questions manually while preparing. This helps you to increase your speed.
Make a note of formulas on one page and try revising those again and again,
Learn tricks, math's short-cuts, memory methods, so as to solve papers in an easy and efficient manner.
Visit Here:- INI CET Result
How To Prepare For MHT CET Preparation Exam 2023 Online?
How can I get ready for the Maharashtra Common Entrance Exam? is the question that candidates have in mind. Candidates must always have a well-defined strategy for getting the best score when preparing for the MHT CET Exam. This section of the article will provide you with advice on how to prepare for the Maharashtra Common Entrance Test (MHT CET) and how to pass it.
To begin, go to the MHT CET official website to review the structure of the syllabus. cetcell.mahacet.org
Additionally, manage your time for MHT CET preparation.
Divide the difficult subjects for the MHT CET exams.
Prepare a schedule for the Maharashtra Common Entrance Test Exams preparation.
Spend no time going through all of the MHT study materials.
Plan Your Preparations
The first step in preparing for the How To Prepare For MHT CET 2023 exam is planning. It is essential to have complete knowledge of the MH CET 2023 syllabus. You should collect all syllabus information and prepare accordingly. Make a plan for your preparation to finish the syllabus on time. The preparation involves each and every one of the syllabus's topics. Therefore, in your preparations, try to cover every syllabus.
How To Prepare For MHT CET 2023 Process?
The exam's difficulty level is roughly comparable to that of the MHT CET. To pass the exam, candidates need a solid strategy for preparation.
Know the Exam's Format and Syllabus: Before beginning their preparations, each candidate must have a solid understanding of the exam pattern and MHT CET 2023 syllabus. Even though the exam's syllabus is based on classes 11 and 12, candidates must know which subjects to study from both classes' syllabuses. The exam pattern provides an overview of the structure, types of questions, and scoring scheme of the question paper.
Create a Schedule: Candidates should create a study plan for MHT CET 2023 based on the exam's syllabus. The overall strategy for covering all topics, regular revisions, and mock tests must be included in the study plan. Additionally, candidates should set aside time each day for physical activity.
Materials for Study: It is essential to study using the appropriate textbooks or study materials. Students may become perplexed as a result of inappropriate books. Therefore, candidates must begin their preparation with NCERT and the books recommended by mentors or exam winners from previous years. Candidates can also refer to RD Sharma of Class 11 and 12 for Mathematics, H C Sharma's Concepts of Physics, and Arihant Publishers' MHT CET Chemistry as additional resources.
Revision: Revision on a regular basis is an essential component of effective exam preparation. As a result, the revision helps students retain previously learned concepts and formulas. In addition, candidates are required to review the entire syllabus once prior to the exam.
Mock Tests and Sample Papers: Candidates are encouraged to practice with more and more MHT CET 2023 practice tests and sample papers. It will assist them in effectively managing their time and speed. Candidates will also be able to analyze their levels of preparation with the assistance of these sample papers and mock tests, which are based on the actual pattern of the exam.
Related Posts :-
Rajasthan BSTC Online Form 2023
PM Kishan Beneficiary Status List