OJEE Syllabus:- All those aspirants who are going to appear for Odisha Joint Entrance Exam & searching for OJEE Exam Syllabus 2023 than you are warm welcome on this page. Odisha Joint Entrance Examination Board has published OJEE Syllabus PDF for UG, PG and lateral entry courses such as MBA, MCA, Pharmacy, Diploma, B.Tech etc Odisha Joint Entrance Exam will tentatively  be held in the second week of May 2023 and First week of June . You are advised that you can download Revised OJEE Syllabus from this page and begin your preparation accordingly to score good marks.
OJEE Syllabus 2023
Odisha Joint Entrance Exam Syllabus 2023 is release before the examination. Check the syllabus to know subjects and important topics from which questions will be asked in OJEE Syllabus 2023. If you are appearing in Odisha Joint Entrance Examination then you should study all topics from the OJEE 2023 syllabus, and know the exam pattern, weightage as well. You can also download pdf of the syllabus to refer to the topics anytime during your OJEE preparation.
The syllabus of OJEE contains the subjects & their important topics from which questions will be asked in the OJEE 2023 question paper. OJEE is the State level Engineering entrance paper for admission to B.Pharm, B.CAT, Lateral Entry to B.Tech, Lateral Entry to B.Pharm, MBA, MCA, M.Tech, M.Arch, M. Plan, M.Pharm, Integrated MBA, M.Sc. Computer Science in Universities, Govt. Colleges & Self-Financed Institutes in Odisha.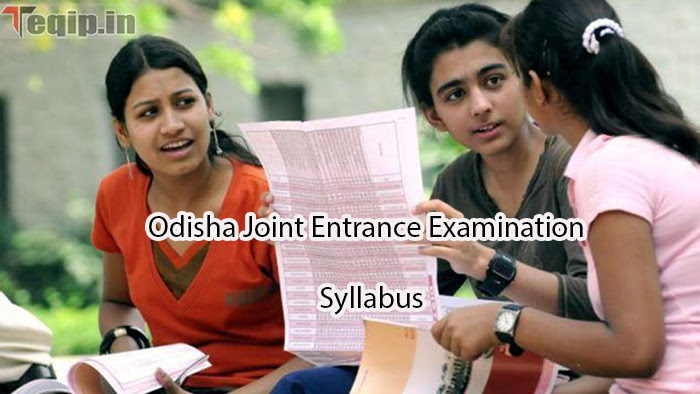 OJEE Syllabus 2023 Details
| | |
| --- | --- |
| Name of exam | Odisha Joint Entrance Examination |
| Category | Syllabus |
| Full form of organization | Odisha Joint Entrance Examination Committee |
| Important Topics | All topics are important |
| Scope of syllabus | State |
| Official Website | ojee.nic.in |
Check Also:- SBTE Kerala Admit Card
About OJEE
The Odisha Joint Entrance Examination is a state-controlled, centralized test for admission to numerous Odisha-based private and public medical, engineering, and management schools. After passing the 12th grade, the test is taken to get a graduate degree, a postgraduate degree, or to get into B.Tech., B.Arch., B.Pharm., BDS (also known as Bachelors), MBA, MCA, PDCM, PGDM, M.Pharm, and M.Tech. courses. After the All India Pre Medical Test and JEE announcements were made, the MBBS and B.Tech. programs were taken off of OJEE.
Those who have completed the Pure Science stream at the 12th grade level are required to take the exam, which consists of three specific subjects: biology, physics, and chemistry. Due to the announcement of an All India Common Medical Entrance Exam, it is currently limited to engineering colleges. In the past, there were two distinct tests for engineering colleges and medical colleges. The medical test had a Biology paper, while the engineering test had a Mathematics paper. Graduates with postgraduate degrees may compete for seats in MBA, MCA, PGCM, PGDM, M.Pharm and M.Tech courses offered by Odisha universities in a variety of fields. Students in the state of Odisha who want to get into the first year of B.Tech. or B.Arch. in 2015 must take the JEE MAIN exam, which is held by CBSE New Delhi.
OJEE Entrance Exam
The annual state-level entrance exam known as the Odisha JEE Entrance Exam is administered by the state government of Odisha. The offline (pen and paper-based) JEE Entrance Exam mode is available. Utilizing the OJEE Syllabus 2023 and exam pattern provided above, candidates must pass the JEE Entrance Exam in order to gain admission to the best private and public colleges in Odisha.
OJEE Pharmacy Syllabus 2023
OJEE Physics Syllabus
Measurements and Motion
Heat & Thermodynamics
Characteristics of Materials
Liquids
Electricity & Magnetism
Wave motion
Optics
Electronic Devices
Relativity and Nuclear Physics
OJEE Chemistry Syllabus
General Conduct Of Matter
Liquid State
Solutions
Gaseous State
Atoms and molecules
Structure of atoms and molecules
Chemical bonds
Periodic classification
 Chemical Energetic, Equilibrium and Kinetics
Energetic
Equilibria
Kinetics
Types of chemical response
Non-metals
Electrochemistry
Nuclear chemistry
Metals and metallurgy
Organic Chemistry
Introductory
Aliphatic compounds
Aromatic compounds
Biochemistry
Chemistry inside the service of mankind
Environmental chemistry
Read Also:- Telangana SSC Results
OJEE Mathematics Syllabus
Logic
Algebra of sets
Number system
Determinants and matrices
Trigonometry
Co-ordinate geometry of two dimensions
Coordinate geometry of three dimensions
Quadratic polynomials
Sequence and Series
Vectors
Differential calculus
Integral calculus
Differential equations
Probability and statistics
Number system
OJEE Zoology Syllabus
Animal world
Classification (Artificial, Natural, Phylogenetic)
Diversity of Animal life :
Introductory Concept
Animal Morphology
Animal Histology
Animal Locomotion
Animal Physiology
Animal Respiration
Animal Circulation
Animal Excretion
Control and Co-ordination
Human Endocrine System
Genetics
Animal Reproduction and Human Development
Human development
Cellular growth
Biology in Human welfare (Elementary idea)
OJEE Botany Syllabus
Diversity of plant life
Morphology of angiosperms
Taxonomy of flowering crops
Cell: Structure and efficiency
Continuity of life
Genetic materials
Recombinant DNA and Tissue custom technique
Complexities of plant life
Processes in plants
Ecology
Economic Botany
Common plant sicknesses
Odisha JEE Syllabus for Lateral Entry Stream
Subject
Topics
Basic Electrical Engineering
Fundamentals

AC Theory

Generation of Electrical Power

Conversion of Electrical Energy

Wiring and Power billing

Measuring Instruments

Storage Devices

Mathematics
Algebra

Determinant and Matrices

Trigonometry

Analytical Geometry

Vector Algebra

Calculus

Ordinary Differential Equation

Coordinate Geometry of three Dimension

Probability and Statistics

Engineering Mechanics
Force and Moments

Center of Gravity and Moment of Inertia

Friction

Gear Drive

Simple Lifting Machine

Simple Stress and Strain

Dynamics
Can Check:- SV University Result
OJEE Syllabus for MCA
Subject
Topics
Mathematics
Logic

Algebra of sets

Number system

Determinants and matrices

Trigonometry

Co-ordinate geometry of two dimensions

Coordinate geometry of three dimensions

Quadratic polynomials

Sequence and Series

Vectors

Differential calculus

Integral calculus

Differential equations

Probability and statistics

Number system

Computer Awareness
Introduction to Computer

Computer Arithmetic

C Language

C++ and data structure

Fundamentals of computer Organization and Networking

Introduction to Operating systems

Logical reasoning and verbal abilities
How To Check OJEE Syllabus 2023 Online?
Applicants can download through the official web portal of examination i.e. ojee.nic.in
On the webpage, go to the left panel and hit on Syllabus for OJEE-2023 tab.
A PDF file will open on your screen containing syllabus of all the courses.
Check the syllabus of all the subjects as per your suitable course.
At last save it and take a copy for future use.
Related Post:-