Vijay Shekhar Sharma Wiki:- Vijay Shekhar Sharma is one of India's most successful technology entrepreneurs and business magnates. He is the founder, chairman and managing director of One97 Communications, the parent company of Paytm, a leading digital payments and financial services platform in India.
He is also an angel investor, a UA Ambassador in India, and a board member of Netaji Subhas University of Technology. As of April 2023, he had a net worth of US$1.2 billion according to Forbes.
Vijay Shekhar Sharma Wiki
In 2000, he founded One97 Communications, which initially offered mobile content such as news, cricket scores, ringtones, jokes and exam results. In 2010, he launched Paytm, which stands for "pay through mobile", as a mobile wallet service that allowed users to make payments using their smartphones.
Vijay Shekhar Sharma Paytm soon became one of the most popular and widely used digital payment platforms in India, especially after the 2016 demonetization that boosted the demand for cashless transactions. One97 has since expanded its offerings to include e-commerce, banking, insurance, mutual funds, gaming, education and more. Paytm has over 400 million users and 25 million transactions daily as of 2023.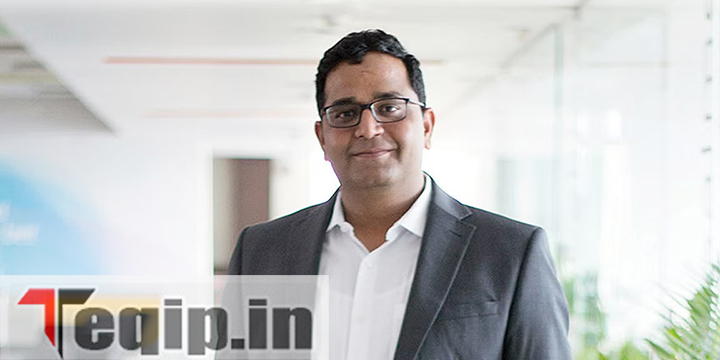 Vijay Shekhar Sharma Wiki Details
Name
Vijay Shekhar Sharma
Occupation
Businessman
Net Worth
1.2 billion
Known For
Founder and CEO of Paytm
Awards
Yash Bharti
Date of Birth
7th June 1978
Spouse Name
Mridula Parashar
Child Name
Vivaan Sharma
Studied From
Delhi University
Parents Name

Father's name is Sulom Prakash
Mother's name is Asha Sharma

Category
Wiki
click here:- Elvish Yadav (YouTuber) Wiki, Biography
Stake in Paytm
cording to a regulatory filing, Paytm founder Vijay Shekhar Sharma will acquire a 10.3% stake from an affiliate of China's Ant Group Co. This will increase his shareholding in One97 Communications, the parent company of Paytm, to 19.4%. He is also the CEO of One97 Communications in 2023.
Education
Vijay Shekhar Sharma, the founder of Paytm, was born in Aligarh to a humble family. He attended a local school in Harduaganj, Aligarh, where he studied in Hindi medium. Vijay completed his 12th board from the UP board. He then moved to Delhi for his higher education and joined Delhi University (DU) for his B.Tech degree. While he was still a student, he created a website, indiasite.net, which he later sold. This was the beginning of his entrepreneurial journey by the Vijay Sharma.
Read here:- Sachin Tendulkar Wiki Biography
Family
Vijay Shekhar Sharma, the founder of Paytm, came from a modest family background. His father, Sulom Prakash, was a school teacher and his mother, Asha Sharma, was a housewife. He tied the knot with Mridula Parashar in 2005 and they have a happy marriage. They have a son named Vivaan Sharma. He also has two or three siblings, but their details are not known.
House
The billionaire Founder and CEO of Paytm leads a life of opulence, evident through the substantial profits garnered by his company. Reports affirm the opulence of Vijay Shekhar Sharma lifestyle, substantiated by the valuation of his residence at a staggering Rs 82 crores. Nestled within the ultra-exclusive Lutyens Bungalow Zone in Golf Links, the bungalow spans an expansive 6,000 square feet.
Positioned in close proximity to iconic New Delhi landmarks such as the Delhi High Court, the Supreme Court, and the majestic India Gate, this residence is more than just a home – it's a testament to his accomplishments and standing within society.
Awards
Vijay Shekhar Sharma has received numerous awards and recognition for his achievements and contributions to the Indian economy and society. Some of them are:
Youngest Indian Billionaire by Forbes magazine in 2018
Entrepreneur of the Year by AIMA in 2018
Time Magazine's 100 most influential people in 2017
ET Entrepreneur of the Year by The Economic Times in 2016
Dataquest IT Man of the year in 2017
Yash Bharati Award by the Government of Uttar Pradesh
Some Related Post:-
Jabardasth Naresh Wiki, Biography, Age
Brad Pitt Wiki, Biography, Age, Height
Michael Jordan Wiki, Biography, Age, Height