UPSSSC Enforcement Constable Syllabus:- UPSSSC Enforcement Constable Syllabus 2023 has been published on official website by Uttar Pradesh Subordinate Service Selection Commission. For candidates wishing to apply for this Her UPSSSC Enforcement Officer exam.
It is important to be familiar with the UPSSSC Enforcement Officer syllabus and exam pattern in order to prepare effectively. The UPSSSC Enforcement Constable Syllabus 2023 covers both written exams. This article provides detailed exam requirements and exam patterns to help prepare candidates.
UPSSSC Enforcement Constable Syllabus 2023
In addition to the syllabus, it is important that candidates read the UPSSSC Administered Exam Pattern, which provides information on question distribution, number of sections, and scoring scheme established by the Board.
Candidates should therefore download her UPSSSC Enforcement Constable Syllabus PDF file available below. In addition, candidates should be aware that they have minus 0.25 points and will be deducted for incorrect answers.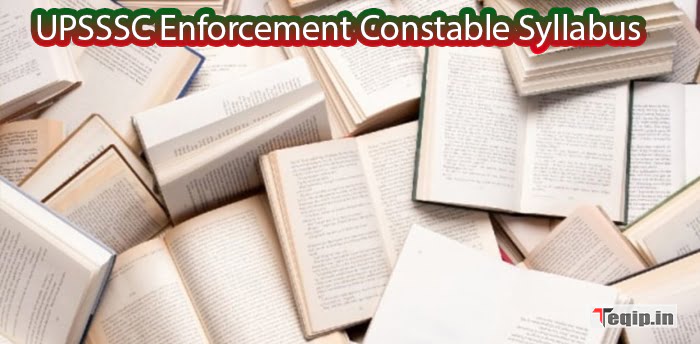 UPSSSC Enforcement Constable Syllabus Details
| | |
| --- | --- |
| Organization Name | Uttar Pradesh Subordinate Services Selection Commission (UPSSSC) |
| Post Name | Enforcement Constable |
| Category | Syllabus |
| Selection Process | Computer proficiency test and Physical proficiency / Efficiency test along with Written Exam |
| Job Location | Uttar Pradesh |
| Official Site | upsssc.gov.in |
Check Also:- SVNIRTAR Entrance Exam Syllabus 2023
UPSSSC Enforcement Constable Selection Process
Computer proficiency test
Physical proficiency / Efficiency test
Written Exam
Physical Standard
UPSSSC Enforcement Constable Exam Pattern 2023
UPSSSC Enforcement Constable Exam Pattern 2023
Subject
Number of Questions
Maximum Marks
General Science
38
76
General Hindi
37
74
Numerical & Mental Ability Test
38
76
Mental Aptitude Test (Reasoning)
37
74
Total
150
300
Note:
The

written

exam

consists

of

150

objective

questions.




The

total

score

for

the

exam

is

300

marks.




The

exam

is

given

in

both

English

and

Hindi.




He

has

two

hours

for

the

exam.




2

marks

are

awarded

for

each

correct

answer.

Each

incorrect

answer

is

given

a

negative

score

of

0.25

marks.
Read Also:- BVP SLPCET Previous Question Paper 2023
UPSSSC Enforcement Constable Syllabus 2023 Subject Wise
Candidates looking for the 2023 UPSSSC Enforcement Constable syllabus can find it in this section. Here, we provide a section-by-section syllabus for the UPSSSC Executive Officer Exam to help you understand the topics required to prepare for the exam.
General Knowledge/ General Science
India and its adjacent countries
India and World geography
Books & Authors
Organizations
Capital
Ancient History
Natural Resources
Indian Economy and Culture
All Important Dates
Current Affairs
Scientific Progress/Development
Indian Agriculture
Currency
Environment and Urbanization
National/International Awards
Indian Constitution
Medieval History
Modern History
UP Special General Knowledge
General Science- (Physics, Chemistry, Biology)
Reasoning Ability
Discrimination
Analysis and Judgment
Analogies
Arithmetical Computations and Other Analytical Functions
Relationship
Arithmetical Number Series
Concepts
Arithmetic Reasoning
Visual Memory
Decision Making
Space Visualization
Abilities To Deal with Abstract Ideas and Symbols and their Relationships
Observation
Also Check:- AIPMT Previous Question Paper 2023
General Hindi
Verbal and Figure Classification
Problem Solving
Comprehension Test
Letter Writing
Sentence Correction
Idioms & Phrases
One Word Substitutions
Title of the Passage
Antonym
Synonym
Word Knowledge
Use of Words
Numerical Aptitude
Number System
Profit Loss and Discount
Simplification
Partnership
Mensuration
Interest
Percentage
Average
Geometry
Tables and Graphs
Miscellaneous
HCF and LCM
Ratio and Proportion
Time and Work
Speed Time and Distance
Intelligence Quotient
Relationship and Analogy Test
Coding-Decoding
Spotting out the dissimilar
Blood Relation
Arranging in order
Series Completion
Mathematical ability Test
Venn Diagram and chart-type test
Time sequence test
Direction Sense Test
Problems based on the alphabet
Mental Ability Test
Logical Diagrams
Letter and number series
Distance and Direction
Forcefulness of argument
Symbol-Relationship Interpretation
Word formation Test
Coding and Decoding
Letter and number coding
Word and alphabet Analogy
Note: The topics provided above as the syllabus for the UPSSSC Enforcement Constable Examination are for reference purposes only.
Also Read:- KLEU AIET Previous Question Paper 2023
How To Download UPSSSC Enforcement Constable Syllabus 2023 Online?
The UPSSSC Enforcement Constable Syllabus is one of the most competitive exams in the state. Thousands of candidates take the exam each year, but only a few are declared successful because of their dedication, consistency, and good planning. Therefore, candidates should analyze the latest Her UPSSSC Enforcement Constable syllabus and prepare strategies according to the exam requirements. Here are some tips and tricks to pass the UPSSSC Enforcement Constable 2023 exam on her first attempt.
Thoroughly

analyze

the

UPSSSC

Enforcement

Constable

syllabus

and

exam

pattern

before

beginning

your

preparation.

This

will

help

you

create

a

list

of

important

topics

and

allocate

study

time

to

each

topic

accordingly.




Our

selection

of

expert-recommended

books

and

study

materials

will

make

it

easy

for

you

to

understand

basic

concepts

and

cover

more

advanced

topics

without

confusing

them.




Improve

your

speed,

accuracy

and

answering

skills

by

taking

practice

tests

and

surveys

from

the

previous

year.

This

will

help

you

accurately

answer

as

many

questions

as

possible

in

the

allotted

time.

Prepare

short

notes

for

each

topic

to

help

with

last

minute

corrections.
UPSSSC Enforcement Constable Syllabus 2023 FAQ'S
What is the schedule of UP Constable?
Test comprises 4 segments (General Hindi, General Information, Mathematical and Mental Capacity Test, and Mental Inclination/Knowledge/Thinking). Negative marking: 0.25 points for each incorrect response.
What is the example of Upsssc test 2023?
The example of assessment will be CBT based and the greatest time apportioned is 2 hours. There will be a sum of 100 inquiries of 1 imprint each and a ¼ imprint will be deducted for a mistaken reaction and 1 imprint will be granted for a right reaction. The UPSSSC PET 2023 overview is available to candidates below.
What is the weightage of UP Police Constable test?
The test will be of 300 imprints altogether with 150 inquiries. Each question will convey +2 denotes each. There will be a negative stamping of 0.25 for each off-base response.
Related Post:- 
NBE FNB Exit Exam Syllabus 2023
CETPPMC Previous Question Paper 2023