Link Aadhaar with Driving Licence:-Utilizing their Aadhaar, drivers of two-wheeled and four-wheeled vehicles can obtain a new license or renew their existing one. With UIDAI's new Aadhaar-based verification guidelines, fraudulent and duplicate driver's licenses will be less common.
According to the Ministry of Road Transport and Highways of India, counterfeit driver's licenses account for more than 30% of the country's total supply. Find out everything you need to know about the benefits and highlights of the Link Aadhaar Card with Driving Licence, as well as a list of Transport Authorities, in the sections that follow.
Link Aadhaar with Driving Licence
Over time, Aadhar has grown to become an important part of every Indian's life. The Indian government's initiative to give each person a unique universal identification number is beginning to pay off. An Aadhar card is required to participate in a variety of government programs and receive subsidies. A campaign has been launched by the Ministry of Road Transport and Highways to make it easy for people to link their Aadhar cards to their driving licenses. At the moment, anyone can link their Aadhar card to their driver's license online.
The local Road Transport Departments can accept a person's multiple licenses on their own initiative. The government intends to begin linking Aadhaar with a driving license as soon as the legal regulations are completed by the Ministry of Road Transport and Highways. The procedure will help identify people who have multiple licenses or fake licenses after enforcement.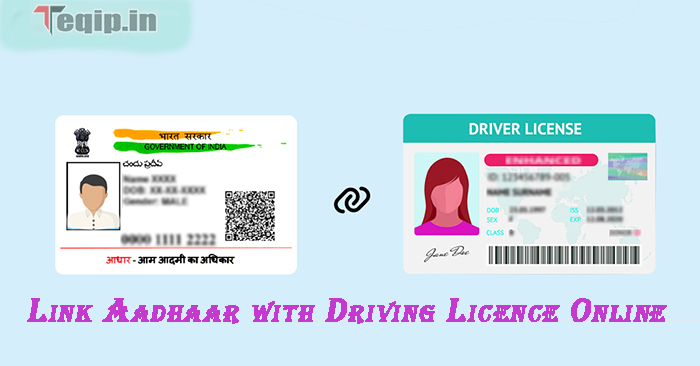 Link Aadhaar with Driving Licence Online Details
Check Also:- Ayushman Bharat Scheme
Why is the Government Planning to Link Driving Licenses with Aadhaar?
There have been several cases where a single individual possesses two or more driving licenses, according to the government. A person cannot hold several drivers' licenses, as per the road transport-related laws. All other states and union territories of the nation recognize a driving license issued in one state. As a result, having multiple driving licenses is not required. To mitigate this risk, the authorities are considering linking Aadhaar to driver's licenses. Duplicate licenses can be easily controlled since only one driving license can be linked to Aadhaar card.
While the Ministry of Road Transport and Highways finalizes all legal and infrastructure arrangements, the process will not be started until later this year. A driver may surrender his multiple driving licenses at the Road Transport Department's regional office.
Benefits from a driver's license should be linked to Aadhaar
The following are some of the main advantages of linking Aadhaar to a driving permit:
The entire business will be under one roof if Aadhar and a driver's license are connected.
If a person has multiple licenses, transportation officials will be able to identify fake documents and take the necessary action.
The Aadhaar-based unified platform will enable authorized agencies in India to access and validate the license information of each automobile owner.
Authorized agencies are able to tell the difference between genuine and bogus driving licenses.
The requirement to link the Aadhar card to the driver's license would make anti-corruption efforts easier.
A central internet database will store the drivers' information. In order to prevent the issuance of duplicate licenses, the data would be accessible throughout India.
A computerized system will handle the entire process. Therefore, in contrast to manual procedures, drivers who pass the test will receive their license 72 hours later.
The department of transportation will now be more easily and quickly involved in operations.
The number of traffic accidents will decrease as no one will be able to obtain a license without passing the driving test.
Read Also:- Amma Vodi Scheme Application Form
How to Connect Aadhaar to Your Driving License
Driver's licenses are issued by each state and union territory's Road Transport Department. To link their license to Aadhaar, owners of automobiles and two-wheelers must visit the state transportation agency's website. Aadhaar and DLs may be linked in different ways in different states. However, all states and union regions follow roughly the same fundamental procedure. To link Aadhaar to a driving license, the user must follow the steps below:
First, visit the website for the state's road transportation, which is where the driver's license was issued.
The homepage will open; click the Link Aadhar button. Next, select the Driving Licence option, then the Aadhar Number Entry option.
A new page will open; enter the license number.
Finally, click the Get Details button, and the driving license details will appear on the screen.
Enter your 12-digit Aadhaar number, then your registered mobile number, and then carefully recheck all of the details before clicking the Submit button.
An OTP will be sent to your registered mobile number.
Enter the received OTP for verification to complete the linking process.
Transport Authority Websites List
The table below lists the websites of the Transport Authority:
Check Here:- Mizoram Ration Card 2023
| | |
| --- | --- |
| Arunachal Pradesh | https://arunachaltransport.nic.in |
| Andaman and Nicobar Islands | http://transport.and.nic.in |
| Andhra Pradesh | AP Transport Department |
| Assam | https://transport.assam.gov.in |
| Bihar | https://state.bihar.gov.in/transport/CitizenHome.html |
| Chhattisgarh | http://www.cgtransport.gov.in |
| Chandigarh | http://chdtransport.gov.in |
| Delhi | https://transport.delhi.gov.in/home/transport-department |
| Dadra and Nagar Haveli | http://dnh.nic.in/Departments/Transport.aspx |
| Daman and Diu | https://daman.nic.in/rtodaman/default.asp |
| Gujarat | https://cot.gujarat.gov.in/index.htm |
| Goa | https://goatransport.gov.in/Default |
| Himachal Pradesh | https://himachal.nic.in/transport |
| Haryana | https://hartrans.gov.in |
| Jharkhand | http://jhtransport.gov.in |
| Jammu and Kashmir | https://www.jktransport.nic.in |
| Kerala | https://kerala.gov.in/transport-department |
| Karnataka | https://transport.karnataka.gov.in/english |
| Lakshadweep | http://lakshadweep.nic.in/depts/rto.htm |
| Manipur | http://www.manipurtransport.in |
| Madhya Pradesh | http://transport.mp.gov.in |
| Maharashtra | https://transport.maharashtra.gov.in/1035/Home |
| Mizoram | https://transport.mizoram.gov.in |
| Meghalaya | http://megtransport.gov.in |
| Nagaland | http://mvd.nagaland.gov.in |
| Orissa | http://odishatransport.gov.in |
| Punjab | http://olps.punjabtransport.org |
| Pondicherry | https://transport.py.gov.in |
| Rajasthan | https://transport.rajasthan.gov.in |
| Sikkim | https://sikkim.gov.in/departments/transport-department |
| Telangana | https://transport.telangana.gov.in |
| Tamil Nadu | https://tnsta.gov.in/homepage |
| Tripura | https://transport.tripura.gov.in |
| Uttarakhand | https://utc.uk.gov.in |
| Uttar Pradesh | http://uptransport.upsdc.gov.in/en-us |
| West Bengal | https://transport.wb.gov.in |
Conclusion
Aadhaar is the 12-digit unique identification number assigned to every Indian citizen. It is also known as the national identification number, and is mandatory for all legal entities, including companies, government departments and authorities. With Aadhaar linked to your driving licence, you can make online transactions and receive government benefits more easily. In this conclusion of our series on how to link Aadhaar with your driving licence, we'll explain everything you need to know.
Related post :-
Jagananna Sampoorna Gruha Hakku Scheme 2023
Covid Vaccine Certificate Download Online
Krishak Bandhu Status Check Online