West Bengal Marriage Registration- The newlywed couple receives marriage registration certificates in the state of West Bengal from the Law Department Register General of Marriages, Government of West Bengal. Using the rgmwb.gov.in website, you can submit an online application for marriage registration. This page contains comprehensive information about the online application process, eligibility requirements, documentation needed, and many other important details. Gather the necessary information from here before submitting an application for marriage registration.
West Bengal Marriage Registration
The Hindu Marriage Act of 1955, the Special Marriage Act of 1954, the Indian Christen Marriage Act of 1872, and the Parsi Marriage & Divorce Act of 1936 all allow couples to apply for registration. All individuals who identify as Hindus in any of their forms or developments—whether they be Lingayats, Virashaivas, Brahmo, Prarthana, or Arya Samaj adherents, or those who practise Buddhism, Jainism, or Sikhism—and who do not practise Islam, Christianity, Parsi, or Judaism—are subject to the Hindu marriage act. The Indian Christian Matrimony Act is intended for members of the Christian community. The Parsi Marriage & Divorce Act is relevant to members of the Parsi community. The Special Marriage Act is applicable to other people.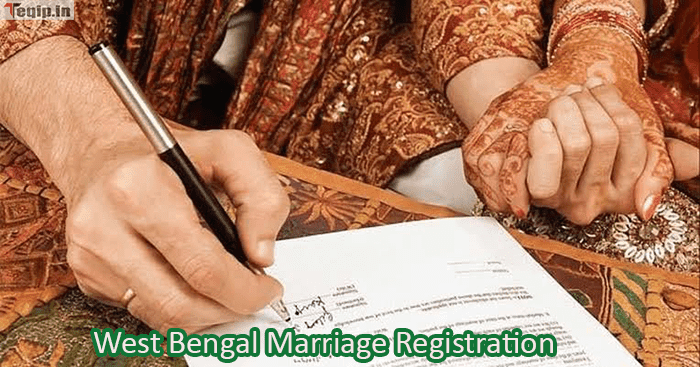 West Bengal Marriage Registration Details
| | |
| --- | --- |
| Name of the department | Law Department Register General of Marriages |
| Issued | Marriage registration certificate |
| Issued in | West Bengal |
| Issued to | Wedded couples |
| Mode of application | Online |
| Category | Government scheme |
| Official website | http://rgmwb.gov.in/ |
Check Also:- Bhulekh Odisha ROR, Map View, Land Records 2023
Eligibility Conditions for West Bengal Marriage Registration
Significant Documents for Registration
West Bengal Marriage Vision
The West Bengal Marriage Vision is a government initiative that aims to promote gender equality and social justice through marriage registration. It seeks to increase people's awareness of the significance of registering their marriages while making the process more accessible to all citizens. Registering marriages can provide couples with legal protections and benefits while also aiding in the prevention of child marriage and domestic violence. This program has the potential to create a safer, fairer, and more equal society for all residents of West Bengal. The initiative is a crucial step towards promoting women's rights and ensuring that everyone has access to fundamental rights and protections under the law. By registering marriages, individuals can safeguard themselves from various issues such as property disputes, inheritance claims, and domestic violence. Overall, the West Bengal Marriage Vision serves as a powerful tool for creating
West Bengal Marriage Led Development And Turning Point By Scheme
The West Bengal Marriage scheme has been a vital step towards the betterment of the state. The primary objective of this initiative is to offer financial assistance to economically deprived families during their daughters' marriage. This program has proved useful in reducing the financial burden on families, which can lead to greater educational opportunities for girls. Furthermore, it also aids in diminishing child marriages, promoting gender equality and women empowerment. The scheme has enabled many families to provide better education and healthcare to their children, leading to overall development in the state. By extending support to less privileged families, the government has taken a significant step towards creating a more inclusive society. It is noteworthy that this scheme only covers marriages registered under the Special Marriage Act, 1954. The financial assistance provided by this scheme is Rs. 25,000 for each marriage.
West Bengal Marriage Real-World Employment
As the given text is unclear and appears to be a combination of two separate topics that do not relate to each other, it is challenging to expand on this topic. In order to write informative and relevant content, it is crucial to provide a clear and specific topic or question. This will enable writers to conduct thorough research and provide insightful information that is relevant to the given topic. Without proper context or information, it is difficult for writers to produce high-quality content that adds value to readers. Therefore, it is important to provide clarity when assigning writing tasks.
Read Also:- Rajasthan SSO Portal Login
West Bengal Marriage Registration Application Fee
| | |
| --- | --- |
| Duration | Registration Fee |
| Within 2 Months of the Wedding | Rs.200 |
| After 2 Months of the Wedding | Rs. 400 |
How to do West Bengal Marriage Registration?
Getting married is an exciting milestone in life, and it's important to make sure that your marriage is legally recognized. If you're planning a wedding in West Bengal, India, you'll need to go through the process of marriage registration to ensure that your union is legally binding. In this blog post, we will guide you through the steps of how to do West Bengal Marriage Registration. From gathering the necessary documents to completing the application process, we'll provide all the information you need to make sure your marriage is official in the eyes of the law. So, let's get started on this journey towards marital bliss and legal recognition!
First Step
Also Check:- BPL Ration Card Download 2023
Second Step
Third Step
Also Read:- Mizoram Ration Card 2023
Procedure to Raise Objection
Procedure to File Request for Change of Marriage Officer
Can Check:- Amrit Brikshya Andolan Registration 2023
Objection Reasons
West Bengal Marriage Required Skills & Qualifications
In West Bengal, there are no specific qualifications or skills required to enter into marriage. However, there are certain legal requirements that must be met, such as being of legal age (18 years for females and 21 years for males), having a valid government-issued ID proof, and not being closely related to your partner. It is important to note that marriage is a significant commitment that requires emotional maturity, effective communication skills, and mutual respect to build a successful partnership. These skills enable partners to navigate the challenges that arise in any relationship and build a strong foundation for their future together. Therefore, it is essential to prioritize these aspects alongside meeting the legal requirements when considering entering into a marriage in West Bengal.
West Bengal Marriage Platform To Apply Online
The West Bengal government has recently set up an online marriage registration platform that enables couples to apply for their marriage online. This initiative aims to streamline the process of registering a marriage, making it more accessible to people throughout the state. The platform is user-friendly and guides users through the process of submitting all necessary documents required for marriage registration. As a result of this new system, it is anticipated that couples will spend less time and effort completing the registration process, resulting in a more convenient and efficient process overall. With this new system in place, individuals can now register their marriages from the comfort of their own homes, without having to visit government offices in person.
West Bengal Marriage Comprehend Problems Facing In Programmer
The tech industry in West Bengal has seen a significant boom in recent years, but it still faces challenges when it comes to marriage and relationships. Programmers, in particular, face unique difficulties when trying to find a partner who understands their work and the demanding schedules that come with it. Additionally, there is often a lack of awareness among non-technical individuals about the nature of work in this field, which can lead to misunderstandings and communication gaps. It is crucial for those working in the tech industry to be transparent about their work and lifestyle with potential partners and for society as a whole to better understand and appreciate the value of their contributions.
West Bengal Marriage Official Website Link
To provide comprehensive and useful information about the West Bengal Marriage Official Website, it is necessary to have a specific question or context. As an expert content writer and copywriter, I am committed to delivering valuable insights that cater to your needs and offer the information you seek. Therefore, if you can provide more details about the website or a particular query related to it, I can assist you better by creating high-quality content that meets your requirements. The West Bengal Marriage Official Website is a platform that offers various services related to marriage registration in the state of West Bengal. It provides a convenient and hassle-free way for couples to register their marriages online. The website also serves as a repository of information on marriage laws, procedures, and documents required for marriage registration in West Bengal.
West Bengal Marriage Registration FAQ'S
How can I register my marriage in West Bengal?
The application form for marriage is filled out by the Marriage Registrar. You are required to upload your necessary certificates and photographs, and make the designated fees payment through GRIPS.
Is Aadhaar card mandatory for marriage registration in West Bengal?
Residential Proof includes Voter ID, PAN Card, Aadhar Card, Electricity Bill, or Ration card.
How many witness required for marriage registration in West Bengal?
How can I check if someone is married in India?
Visit the Registrar of Marriages office in the respective district. Typically, this office is affiliated with the local municipal corporation or municipality.
Related Post:- 
UP Shramik Card Online Registration 2023
MP Shramik Card Online Registration 2023